MOSCOW — Crimea, the Ukrainian province annexed by Russia last year and beset by economic sanctions, is hoping to attract big-name foreign celebrities to its shores.
The semi-isolated region — where credit cards do not work, cell phone networks are crippled and blackouts are frequent — will even help the celebrities relocate.
"We would love it if Crimea gets its own equivalent of the American Beverly Hills," the region's Russia-appointed governor, Sergei Aksyonov, said in a statement on his Facebook page on Monday.
The statement came on the heels of former Italian Prime Minister Silvio Berlusconi's visit to Crimea last week with his old friend Russian President Vladimir Putin.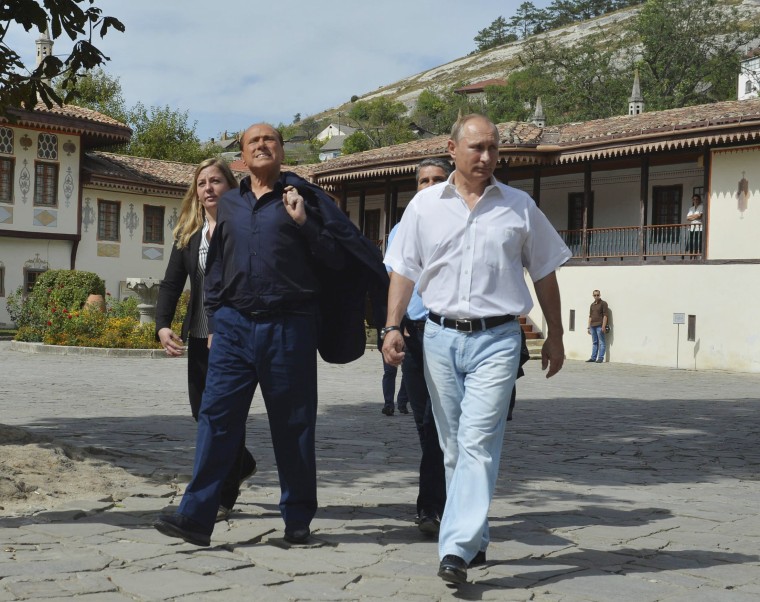 Aksyonov noted that celebrities such as Limp Bizkit rocker Fred Durst and former US boxer Roy Jones Jr. had expressed interest in Russian life.
"If the respected show-business stars, athletes and other celebrities would like to settle in Crimea, they are most welcome," said Aksyonov, promising there would be no administrative hurdles to overcome for them to move to the region, purchase property, or visit on vacation.
PHOTOS: Putin Take Weekend Tour of Crimea with Berlusconi
Aksyonov heralded Crimea's climate and scenery, adding: "We can help in looking for a good place by the sea, in the mountains, forest or steppe."
Russia has become a popular destination for Western celebrities in recent years — though mostly those whose careers are past their prime.
Durst quipped earlier this month that he was interested in obtaining Russian passport. He could join Jones Jr., 46, who received Russian citizenship last week.
Related: Crimea One Year After Russia Referendum Is Isolated From World
French actor Samy Naceri — known for his appearances in the Taxi movies — also hinted that he would like to become Russian like his more famous countryman Gerard Depardieu. Depardieu owns apartments in Chechnya and in Mordovia, once the lynchpin of the Gulag system.
Steven Seagal and Mickey Rourke, both movie stars from the 1980s, are frequent guests in Russia, though they have so far not committed themselves to Russian citizenship.
Jones remained the only Western celebrity to express interest in Crimea specifically. He spoke to Russian state media Ria Novosti in recent weeks saying that he "loved" Crimea, and it "looks like my home."