KIEV, Ukraine — Dozens of anti-government protesters, facing Ukraine police officers armed with combat weapons, were killed in a bloody battle for control of central Kiev on Thursday.
Dramatic pictures showed protesters cut down by gunfire, Molotov cocktails' being thrown and bodies lined up inside a hotel lobby.
U.S. President Barack Obama condemned the scenes and warned Ukrainian President Viktor Yanukovych to withdraw his forces from downtown Kiev immediately.
"We are outraged by the images of Ukrainian security forces firing automatic weapons on their own people," Obama said in a statement. "We urge the Ukrainian military not to get involved in a conflict that can and should be resolved by political means."
The European Union's foreign ministers decided to impose sanctions against officials in Ukraine on Thursday, including a travel ban to the 28-nation bloc and a freezing of Ukrainian officials' assets in EU countries. The list of officials targeted hadn't yet been established.
Later Thursday, Obama and German Chancellor Angela Merkel spoke by phone, the White House said. They agreed that it was critical that the U.S., Germany and the European Union stay in close communication in the days ahead to help the Ukrainian people.
Vice President Joe Biden spoke to Yanukovych by phone Thursday night, but specifics about what they discussed weren't immediately disclosed.
Secretary of State John Kerry in a statement condemned the use of force against civilians and urged an immediate withdrawal of security forces. He said Ukrainians and the international community will "hold to account those who are responsible for what has occurred."
He also urged Yanukovych to immediately start negotiations with opposition leaders to establish an interim government.
The number of people killed and wounded from the clashes varied, depending on the source of the information, but still continued to rise.
Ukraine's Health Ministry told NBC News that the official death toll for the week was 77 people. Of those, at least 47 were killed on Thursday after the truce shattered. At least 577 people were injured during the week's fighting.
But Svyatoslav Khanenko, the head of an opposition medical service, said more than 60 protesters were killed on Thursday alone. NBC News was unable to independently verify that figure.
Video footage on Ukrainian television showed protesters trying to protect themselves with makeshift shields. Teams of protesters carried bodies away on sheets of plastic or on planks of wood.
Late Thursday night, thousands of protesters remained in Kiev's Independence Square.
They had endured gunfire from riot police over the course of the bloody day — taking their wounded to a makeshift field hospital in a hotel — but remained dedicated to keeping the movement alive.
The protesters were even able to expand the ground they controlled as shooting subsided. They built new barricades using overturned vehicles, scraps of wood and metal. They reinforced them with barbed wire. The protesters also stockpiled more weapons — rocks and Molotov cocktails.
Asked what is likely to happen next, Alex, a 23-year-old financial consultant and demonstrator, told NBC News, "maybe a little more victims, but finally the democracy will win."
"We want to destroy this criminal government," said another protester.
Earlier, acting Interior Minister Vitaly Zakharschenko had authorized police to be given combat weapons, which he said would "be used in accordance with the law." He urged protesters to hand in their weapons.
Officials also accused anti-government protesters of taking 67 police officers hostage. Several captured cops were earlier seen being led away by men wearing combat fatigues.
"To free the hostages police have the right to use their weapons," the Interior Ministry said in an online statement.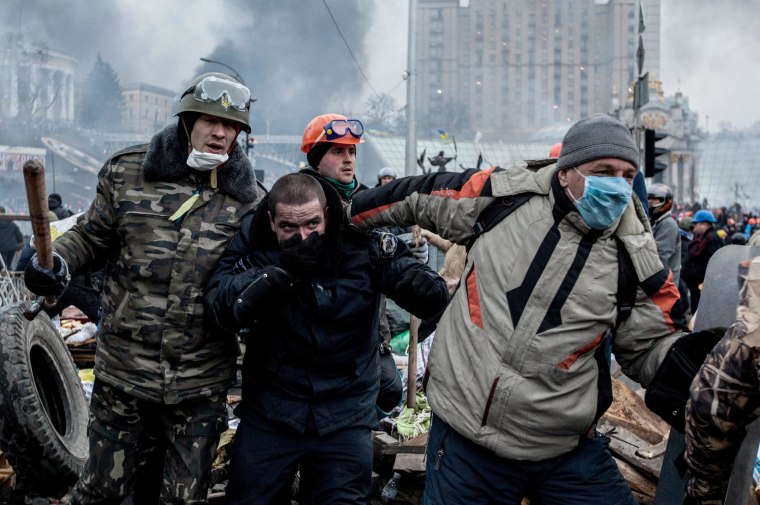 Accounts of the bloody extent of Thursday's violence varied.
The opposition-run Twitter account, @EuromaidanPR, said police snipers had opened fire from buildings above the square and that more than 60 people had been killed. An Associated Press cameraman also saw snipers shooting at protesters in Kiev.
A Reuters photographer, ITV News' James Mates and an Associated Press journalist all reported seeing the bodies of 21 civilians lying on the ground covered by blankets on or near Independence Square.
Anti-government activists blamed the latest flare-up on security forces' storming Independence Square using live ammunition. The Interior Ministry said the new violence was triggered when opposition snipers opened fire on police officers. Officials said 30 cops had suffered gunshot wounds.
Opposition leader Vitali Klitschko released a statement saying the only way to end the bloodshed was for Yanukovych to hold early presidential elections.
The crisis in the sprawling country of 46 million has mounted since Yanukovych pulled out of a planned far-reaching trade agreement with the European Union in November under fierce pressure from Moscow and agreed to take a $15 billion Russian bailout, instead.
Protests began peacefully last year but have been increasingly characterized by smaller, more extreme elements — many aligned with the far right — who have clashed with riot police.
While the demonstrations started as a rejection of the Russia-leaning government policies, protesters said they now seek to "oust a corrupt and brutal regime," according to a post by the opposition-run "Euromaidan" Facebook group on Wednesday morning.
Tuesday's clashes — which left at least 28 people dead — ended weeks of relative calm in the capital and was sparked by Russia's announcement that it was ready to resume its loan package to the Ukraine. Some in the opposition saw this as an indication that the two countries had struck a deal and that the government was intent on standing firm against the protesters.
Ukraine's interim prime minister and Russia's Foreign Ministry had described the violence as an attempted coup.
Klitschko, the world champion boxer turned opposition leader, had backed the cease-fire with Yanukovych in a statement on his party's website Wednesday night.
But other anti-government factions, such as Dmitro Yarosh, the leader of Ukraine's far-right Pravy Sector party, rejected the agreement and vowed to continue to fight.
Mara Stromova and Alexander Smith of NBC News, The Associated Press and Reuters contributed to this report.