KIEV, Ukraine - About 40 police officers defected to Ukraine's opposition and marched into the heart of the protest encampment in the Kiev on Friday, the day after violent clashes between demonstrators and security forces killed dozens.
"We wear this uniform, and in this uniform I made a vow to be a servant of the Ukrainian people," said Col. Vasyl Krykovskiy, the head of police in the district of Lviv. "I just have to be here and protect these people."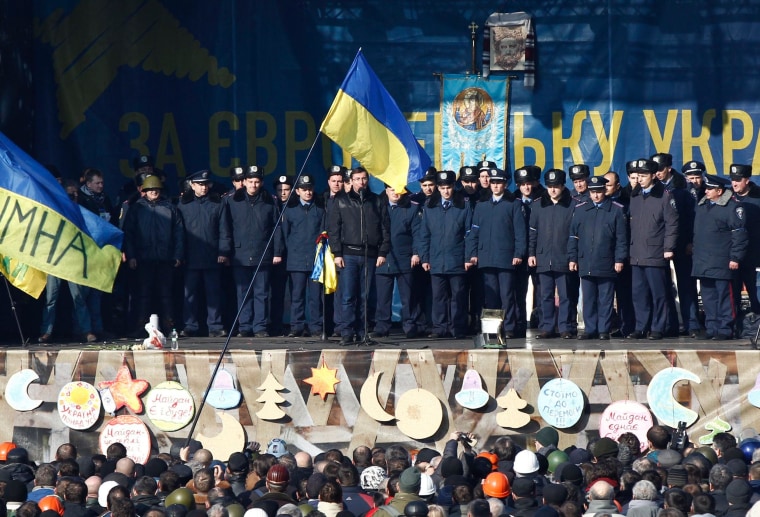 The group had traveled overnight to reach Kiev, he said.
Krykovsky said he decided to defect once it was clear that police in Kiev had fired on protesters.
Senior Lt. Nazar Bohun said he'd left behind his family to come to Kiev and demonstrate how he felt.
"If I was not angry I wouldn't be here," the 24-year-old said. "My wife is crying and my children are crying because I'm here."
Hours after the police marched into Kiev, President Viktor Yanukovych signed a deal with the main opposition leaders to end the deadly violence that put the country on the brink of civil war.
He agreed to early elections and to surrender some of his powers after 77 people were killed as a geopolitical tug-of-war over whether Ukraine should embrace the West or Russia turned violent this week.
Nevertheless, defecting Lviv Police Capt. Vladimir Chesak said was still uncertain and would stay until a real peace was attained.
"We will be here until the moment everything ends and the Ukranian people peacefully go home and no one else is killed," he said.