Western nations condemned what they called an illegal referendum in eastern Ukraine that could lead to some regions joining Russia.
Ukraine and the European Union said they would not recognize the vote - and labeled it a deliberate attempt by Moscow to destabilize the country, mirroring the events before its annexation of Crimea.
"The so-called referenda in ... parts of the Luhansk and Donetsk regions were illegal and we do not recognize the outcome," E.U. foreign policy chief Catherine Ashton said. "Those who organized the referenda have no democratic legitimacy."
Pro-Russian separatists called, oversaw, and counted the votes from Sunday's plebiscite. The separatists, who have taken control of several towns and cities across the east, said 90 percent voted in favor of recognizing as sovereign the so-called "people's republics" in the Donetsk and Luhansk regions.
Separatist leaders said they had not yet decided whether this nod from the people would result in them breaking away from the rest of Ukraine or joining Russia.
Two people were reportedly killed after gunfire in the town of Krasnoarmeisk, the Interfax news agency reported. The Kremlin said after the vote that "Moscow respects the declaration of will of the population" and that it presumed the results would be respected by all sides.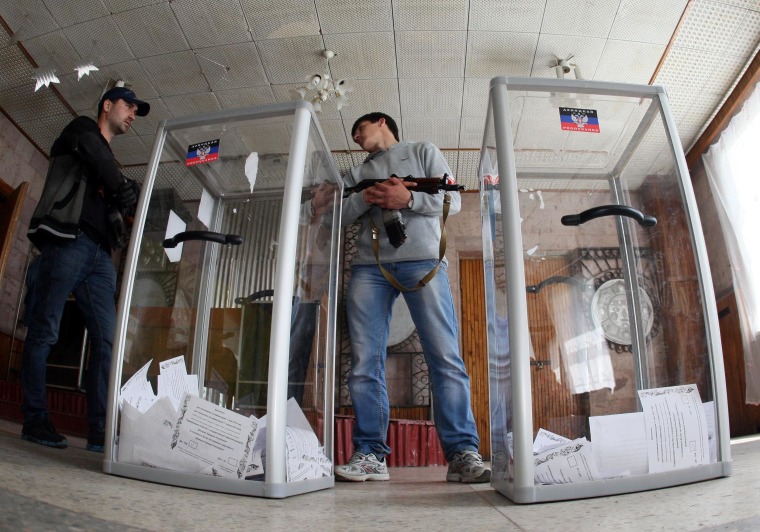 Although the separatists reported the turnout to be 70 percent, reporters on the ground from The Associated Press said it appeared that those opposing the eastern sovereignty had stayed at home.
"The farce, which terrorists call the referendum, will have no legal consequences except the criminal responsibility for its organizers," Ukraine's acting President Oleksandr Turchynov said in a statement Monday, according to the AP.
Before the vote the U.S. called the ballot "an attempt to create further division and disorder."
The Associated Press contributed to this report.
- Alexander Smith