SIMFEROPOL, Ukraine — It lasted about five minutes. Someone hit him in the back of the head, and he crumbled to the ground.
Around fifteen people swarmed him afterward, he recalled. They punched him in the face. But the worst part wasn't the pain — it was the humiliation.
"I was saying, 'Guys, what for?'" says Vladimir Rudyuk, recounting the night in December 2012 he was jumped outside an open-air market in Simferopol. "It was painful for me. I didn't do anything to deserve it."
But, as a gay man living in Crimea, the provincial and conservative slip of land beneath mainland Ukraine, Rudyuk has come to expect abuse.
Since that night, the 27-year-old hair stylist has kept a low profile in this city, where he shares a small duplex apartment with his partner, Pavel Afanasyev, a doctor.
The couple met on the internet in 2007 and were unofficially married in Ukraine three years later, during a ceremony overseen by a Canadian minister.
"Before Russian occupation it was really complicated to be a gay in Ukraine ... Now it's absolutely unbearable."
Their marriage is largely a secret, and it's not legally recognized. They tell most people they are brothers, though the neighbors have figured it out, the men say. Fortunately, no one in their suburban cluster of homes has complained.
The referendum
Days after a controversial vote that set Crimea on course to become part of Russia, the already quiet gay community here is preparing to be absorbed into a country where homosexuality has come under increasing pressure.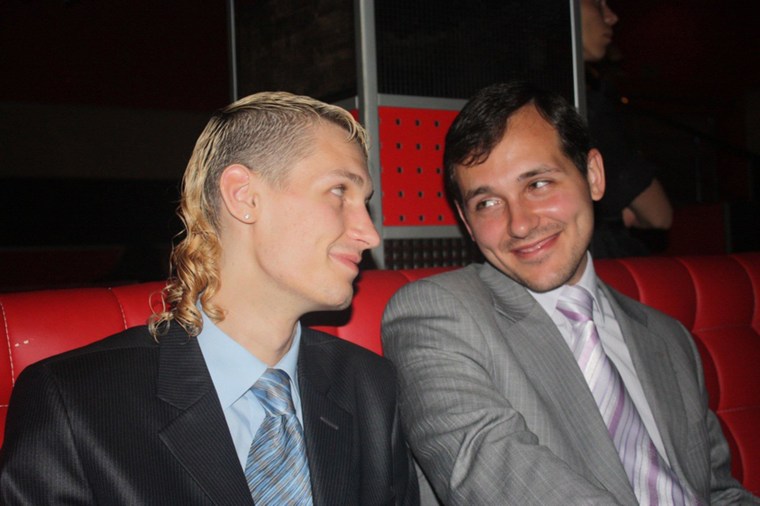 Last summer, the Russian government passed a measure banning so-called gay propaganda. Russia's president, Vladimir Putin, has said the law is meant to protect children. Rights groups have called it an effort to silence gays, already facing violence in their communities. In February, Human Rights Watch released a video documenting attacks on gays by roving street gangs.
In interviews one day after the Crimea referendum, gay citizens here in the Crimean capital said they were anxious about the transition to Russian rule. But like many in Crimea, where there are deep historical ties to Russia, they also said they feel culturally Russian.
For some, the referendum has stirred complicated feelings, tugging their national and personal identities in opposite directions.
Inside his suburban Simferopol home one night after the vote, Rudyuk fed kindling into a wood burning stove. The house runs off electric, but Rudyuk, who is handy and has a wiry build, said he installed the stove to save on utility costs.
"It's better the dictatorship of Putin than a house of chaos."
Afanasyev, Rudyuk's 29 year -old partner, stood over a hot pot by the front door of their apartment, making tea. A grey cat named Simon pushed an empty dish along the floor at Afanayev's feet.
"All he cares about is food," Afanasyev said.
Asked about the referendum, the men said they voted differently. Rudyuk, who suffered the beating only two years ago, said he voted pro-Russia.
He described the Kiev activists who weeks ago toppled Ukraine's pro-Moscow government as "fascists," echoing a Kremlin message.
But the anti-gay law in Russia worries him, too.
"Of course it does," Rudyuk said, speaking Russian. "It's better the dictatorship of Putin than a house of chaos."
Rudyuk's partner, Afanasyev, said he is worried that Crimea will become alienated from the international community. He voted to remain a part of Ukraine.
"We'll be unrecognized, like Abhkazia," Afanasyev said, referring to the autonomous republic in the Caucasus that broke away from Georgia in 2008, declaring itself loyal to Moscow.
Some gay Crimeans plan to abandon the peninsula altogether.
At an anti-referendum rally in Simferopol one day before the vote, a man said he planned to move to Turkey as soon as he could save the money.
"There is no democracy for people in Russia," he said in English.
The demonstrator, Maxim Kornilov, later elaborated by email to NBC News, confiding that he is gay.
"Before Russian occupation it was really complicated to be a gay in Ukraine, that's why I'm still in a closet and feel like trapped," he continued. "Now it's absolutely unbearable."
Twenty-nine years old, he works for a cultural exchange organization he says is financed by the U.S. embassy in Kiev. He lives with his mother, and hasn't told her he is gay.
During an interview in a Simferopol cafe Monday, Kornilov said his mother voted for Russia in Sunday's referendum. Kornilov, discouraged, didn't vote at all.
"It shows there's no hope for an honest life, for a transparent life," he said of the vote's outcome.