Ukrainian protesters looked set to double-down in their bid to oust President Viktor Yanukovych after the government claimed a deal to end the crisis gripping the country had been brokered on Friday.
"What we're hearing from protesters, in so many words, is that this supposed settlement is 'crap.' They're not going to stand for what they deem are minor concessions," said Christopher Miller, an editor at English-language newspaper Kyiv Post and contributor to NBC News' partner GlobalPost. "They would much prefer to stay on the square and continue fighting."
"[This morning] I saw more protesters arriving. They're not backing down. If anything, they are reinforcing barricades," he told NBC News from Kiev.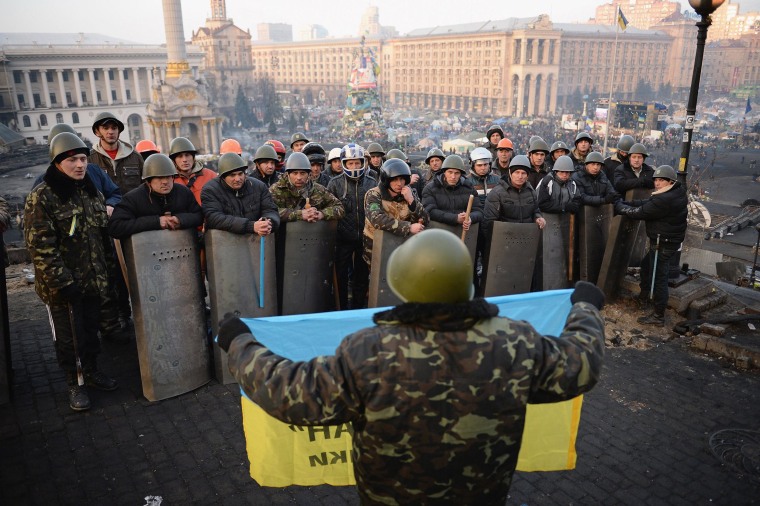 While the reported deal set an early election date for December, protesters want early elections as soon as possible, Miller said.
"They want them now, and really what they want is Yanukovych to resign," he added.
Kiev's subway and highways linking the capital to western Ukraine had reopened Friday, allowing more protesters to travel to Independence Square, where demonstrations have been centered, Miller said.
Earlier, the government announced in a statement that overnight negotiations with opposition leaders, European Union ministers and Russia had produced an agreement to end the crisis. The opposition did not immediately confirm that an agreement had been reached, however.
Thursday was Ukraine's bloodiest day since the country emerged from the Soviet Union in 1991 and demonstrators held a vigil at Independence Square. At least 77 people have been killed -- including more than 13 police officers -- and 577 others injured in clashes this week.