Ukrainian protester leader Vitali Klitschko, the former heavyweight boxing champion who wants to be president, assured pro-Russia Crimeans on Wednesday that "radicals and nationalists" weren't coming to get them.
Earlier Wednesday, scuffles between pro-Western and pro-Russian demonstrators in Crimea, southern Ukraine, left one person dead and almost a dozen others injured. The health ministry later said a protester had died of a heart attack.
Russian allies of ousted President Victor Yanukovych, who remains at large, have said the country is being taken over by "terrorists" and "extremists."
Klitchko, it appears, was attempting to assuage fears of reprisals against the majority Russian-speakers in the region.
"Radicals and nationalists are not coming to you," he said in a statement posted on his party's website on Wednesday.
"Today the situation in the peninsula is very sensitive. You are provoked for a confrontation, which we cannot let happen," said Klitchsko, the leader of the Ukrainian Democratic Alliance for Reform.
He urged Crimeans not to be used in the plans and schemes of politicians, saying he wants to prevent bloodshed.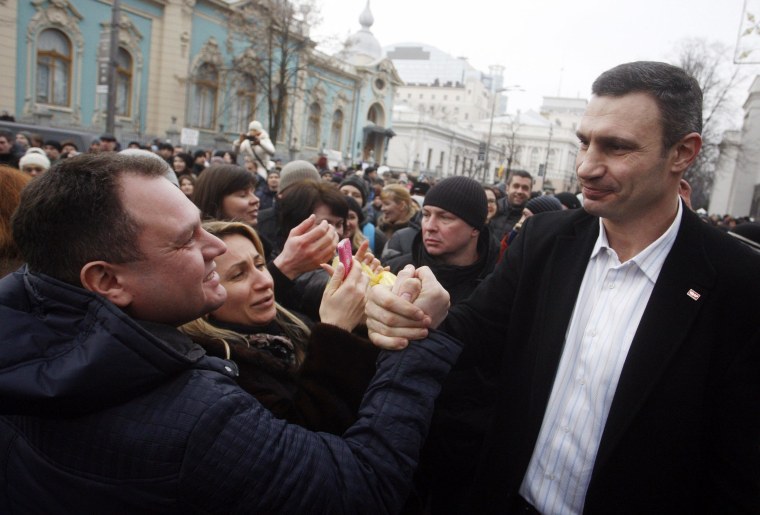 "I, Vitali Klitschko, responsibly declare that no mythical radical nationalists, which you are so scared with, are coming here. They do not intend to interfere in the life and customs of the peninsula and in Sevastopol. No one is going to and will never infringe on language, culture, and the rights of the autonomy. I promise and act as the guarantor of this," he said.