Scuffles between pro-Western and pro-Russian demonstrators in southern Ukraine left one person dead and almost a dozen more injured Wednesday, officials said.
Some 20,000 people - mostly ethnic Tartars - turned out in Simferopol, the capital of the Crimea region, in support of Ukraine's interim government.
These were met by a smaller group of pro-Russian protesters, and despite the efforts of police and their leaders the groups attacked each other with stones, bottles and punches, according to a report by Reuters.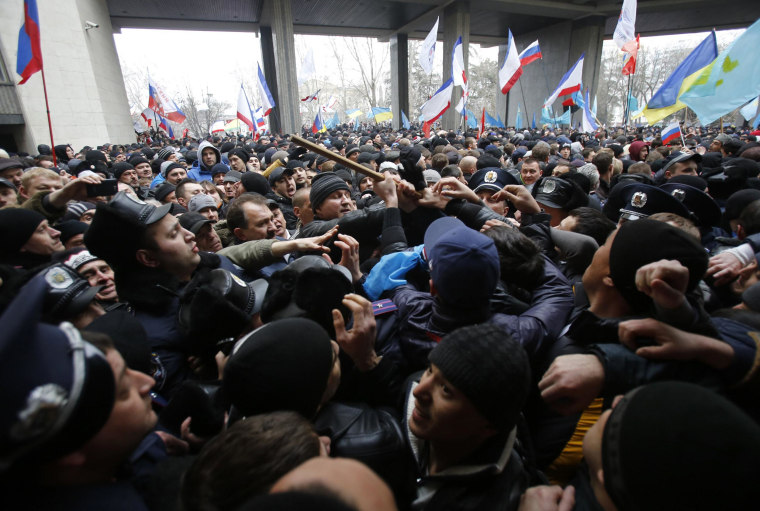 BBC journalist Daniel Sandford was reporting in the city and tweeted that he saw a man in his 50s died after the Tartars surged forward.
The Ukrainian health ministry said in a statement that one person had died of a heart attack.
Most people in Crimea identify themselves as Russian and Russian-speaking and the region is home to Russia's Black Sea naval base. The pro-European protesters largely comprised Muslim Tartars, an ethnic group that was brutally oppressed by Joseph Stalin's Soviet Union and deported to remote parts of Russia.
Tensions have been simmering in the region for days. An armored personnel carrier and two trucks full of Russian troops made a rare appearance on the streets of Sevastopol, another Crimean city, on Tuesday, according to The Associated Press.
The Associated Press and Reuters contributed to this report.