DONETSK, Ukraine - Dozens of armed men in camouflage and black balaclavas bristled as visitors approached the heavily barricaded Security Services building in downtown Donetsk recently.
The men guarding the building in this city at the heart of an independence movement tearing Ukraine apart are members of the Russian Orthodox Army, the breakaway region's unofficial shock troops.
Later in the parking lot, some of them demonstrated how to hijack a car.
"Do it like the time when we got Yakubovych," Mikhail Verin, 33, the commander of the battalion, told his men, referring to the recent abduction of Ukrainian government adviser Nikolai Yakubovych.
Despite jokes and laughter, they are deadly serious about their fight. The Russian Orthodox Army is driven by Christian faith, and motivated by a sense of lost honor and glory, which many feel was stolen when the Soviet Union disintegrated and Ukraine's national boundaries were established about 20 years ago.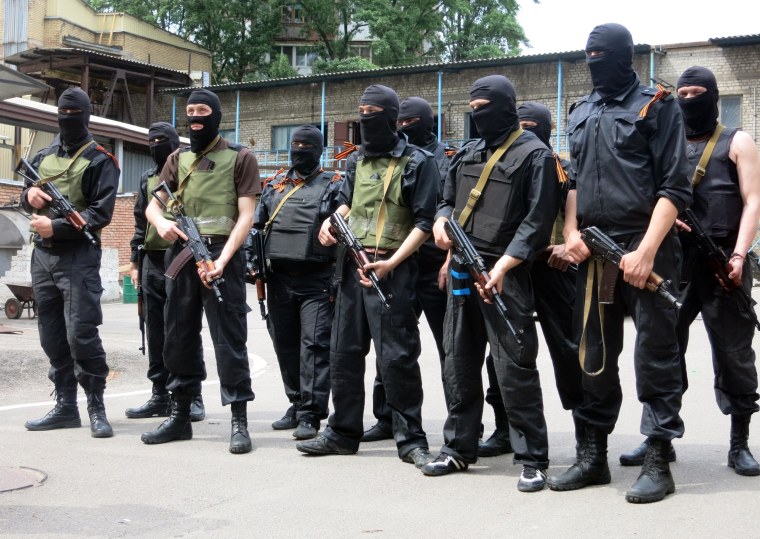 Aggrieved by what they consider decades of corrupt and inefficient leaders who have neglected the industrial region, the army looks to Russia for leadership as it fights the so-called "fascists" in power in Kiev.
Recent victory
"At least in the Soviet Union it was all more honest and fair," said Mikhail, a foot soldier in his 50s who only identified himself by his first name. "Russians are stronger because they have a powerful feeling of justice."
The group –- which according to its leaders was founded in February, around the time the protesters in Kiev ousted pro-Moscow President Viktor Yanukovych -– claimed its first major victory last Sunday when parts of eastern Ukraine declared independence after a disputed referendum. There are other armed groups, but the Russian Orthodox Army is the most cohesive.
Separatist leaders in the regions of Donetsk and Lugansk say the majority of their population voted in favor of the "Donetsk People's Republic" and independence, but it is obvious the militiamen feel they don't need to take orders from the movement's homegrown leaders.
Russians pulling the strings?
The army's undisputed commander is Igor Strelkov, who Ukrainian officials have identified as GRU Officer Igor Girkin. He is now the minister of defense of the self-proclaimed republic.
To Mikhail, Strelkov -- which means "arrow shooter" -- is the man "in charge."
However Ukrainian security services have accused Strelkov, who is based in Slavyansk, of being a Russian intelligence officer.
NBC News tried, but was unable to reach Strelkov to get his reaction to the claims.
Moscow denies that its agents are agitating in the east of Ukraine, but many of the Russian Orthodox Army's foot soldiers assume Strelkov and other senior commanders are.
"There are some Russians in Slavyansk, but only top commanders," said Mikhail, after admitting that he too had lived and worked in Moscow. A factory worker, he said that he didn't like Russia's capital, which he viewed as breeding ground for debauchery.
Verin echoed the Russian connection, saying openly that 20 percent of the Russian Orthodox Army's chiefs are Russian, and the remaining 80 percent local volunteers.
He said the entire organization has about 4,000 members in East Ukraine. A manager at a fast-food restaurant, Verin decided to join the armed movement when plans for his own business fell through.
"I am a family man," he said, adding that while he is ready for combat, he does not want to see war engulf the region.
Verin explained that the movement is organized into different units -– some specialize in storming buildings, while others are snipers or soldiers who focus on defense or reconnaissance.
Only qualified "professionals" are allowed to handle weapons, he said, but as these are in short supply, the "the first aim for the fighters is to capture weapons in battle."
Clashes continue
The Russian Orthodox Army has clashed repeatedly with pro-Kiev forces, taking over towns and government buildings. Although there is no official death toll for the turmoil in eastern Ukraine, over 100 deaths have been reported during recent violence. Pro-Russian militia have taken hostages, including journalists and Organization for Security and Co-operation in Europe (OSCE) members.
Apart from the Ukrainian military, they are also up against pro-Ukrainian militias such as Donetsk 1 and 2, Dnipro and Artemevsk battalion. Both the pro-Russian and the Ukrainian sides contain radically inclined members.
On Thursday, Ukrainian steelworkers and police forced separatists from their positions in Mariupol, another key city in the east of the country.
Steelworkers employed by Ukraine's richest man Rinat Akhmetov bolstered police numbers in Mariupol late Thursday night, according the AP. Around 100 groups, each consisting of two policemen and six steelworkers, were patrolling the streets on Friday, police spokeswoman Yulia Lafazan told the AP.
So it looks like neither side is ready to back down.