Losing blood from a gunshot wound to her throat, Olesya Zhukovska sent what she must have thought was her final tweet.
"I am dying," the 21-year-old wrote in Ukrainian on Thursday after being struck by a bullet. She was working as a volunteer medic amid fierce clashes between police and anti-government protesters in Kiev.
Moments later she lost consciousness.
This desperate moment was captured in a photo showing Zhukovska clutching her neck with one hand and her cellphone with the other. The picture garnered more than 6,000 re-tweets in 24 hours, sparking widespread rumors of her death.
But Zhukovska received emergency surgery and survived.
Her next tweet came Friday: "I am alive! Thanks to everyone who supports and prays for me! I am in a hospital, my condition is stable so far!"
Zhukovska was visited at Kiev's No. 17 hospital by Ukrainian opposition lawmaker Iryna Herashchenko.
"Olesya was shot in the throat and yesterday she was in danger," Herashchenko told NBC News through a translator on Friday. "Initially [before getting to the hospital] we thought she was dead. But thankfully they were able to operate on her and she made it through. She was in intensive care but now she has been moved to another ward where she is now with her family."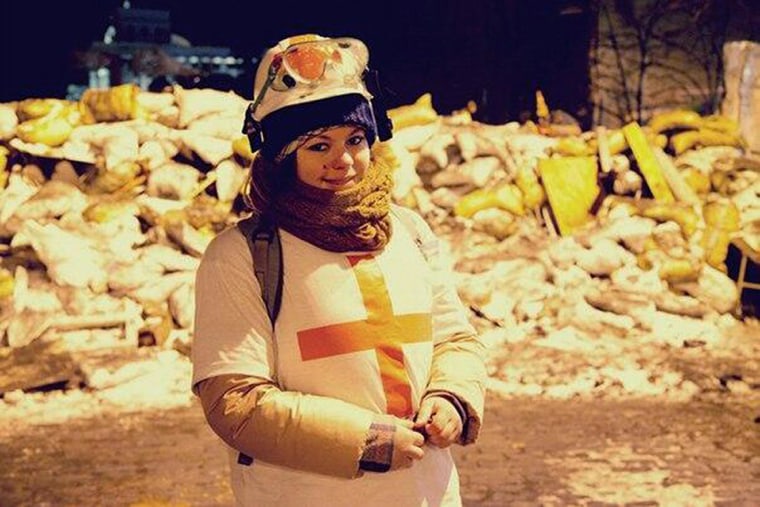 At least 77 people have been killed in violent clashes this week, including 13 police officers, authorities say.
According to Zhukovska's social media page she is originally from Lviv, a city in western Ukraine that has also seen anti-government protests. The profile suggests she traveled to Kiev in the past week.
Herashchenko said Zhukovska arrived at the hospital at around noon on Thursday and was one of 25 people admitted from the protests throughout the day. Two of the victims died.
The volunteer medic's parents were on her way to the hospital in Ukraine and will be there on Friday night, Herashchenko said.
Maria Stromova reported from Moscow. Alexander Smith reported from London.