HOHENFELS, Germany – The minareted fake village used for counter-insurgency combat training stood on the sidelines as American tanks rolled through these muddy woodlands during war games this week.
About 4,000 NATO troops from 15 countries have been staging exercises in the U.S. Army's largest overseas training area in the hills of southern Germany. And with the Ukraine crisis at its doorstep, NATO has been prompted to redefine itself.
The alliance's Secretary-General Anders Fogh Rasmussen has called Russia's behavior in Ukraine "a completely new security situation in Europe" and urged higher defense spending.
Military leaders admit that developments such as Moscow's aggression towards its neighbor have prompted them to rethink their approach.
A different style of warfare
In his field tent at Hohenfels, U.S. Army Capt. Jon Cochran was drawing up potential new strategies during the exercise, dubbed Combined Resolve II.
After two tours in Afghanistan, the company commander of the Fort Hood-based 1st Brigade Combat Team said his soldiers were well-versed in fighting insurgents. However, they were now preparing for new challenges.
"Fighting a near peer, we have to adjust our tactics, instead of fighting groups of insurgents, we're fighting entire enemy companies and battalions," said Cochran, who was drawing up tactical plans for tanks and troops in a tent used as a command center. "This is a definite shift, not only for me, but for a lot of my soldiers."
His broad-based company included soldiers from Albania and engineers from France.
The massing of Moscow's troops near Ukraine's border has raised fears that the Russian bear has awoken from its slumber and NATO has been quick to show military support for members and allies.
Combined Resolve II is one of a number of pre-planned training events demonstrating how NATO is widening its strategic capabilities.
"We have to be prepared for what's next," said Brig. Gen. Walter Piatt, commander of the Joint Multinational Training Command at Hohenfels. "The bottom line is we don't know what's next. The crisis that's ongoing now shows us that many things can pop up, many possibilities are out there. We need to be prepared for what NATO is going to need us to respond to."
Dr. Jonathan Eyal, international director at London's Royal United Services Institute think tank, told NBC News that Moscow's "use of force" to change Ukraine's territory had triggered worries in other neighboring nations.
"There's absolutely no doubt in my mind that we are seeing a fundamental change in NATO because of Russia's moves on Ukraine," he said. "Even if the Ukraine crisis was to resolve quickly and peacefully, it is very difficult to see how an immediate return to the way things were before would be possible."
Eyal added: "A country like Russia has shown it is willing to use force in order to change the status quo. Nobody thought this would ever happen again in Europe. The West has spent the last 20 years pretending that Russia is not a potential threat, even though Eastern Europe has been worried about this. I'm afraid we were wrong and they were right."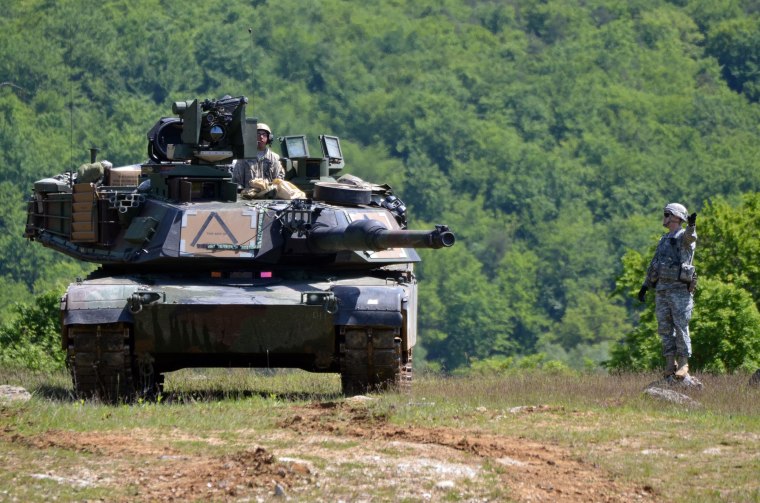 'New Paradigm'
Earlier this month, NATO'S Supreme Allied Commander, Air Force Gen. Philip Breedlove, stressed that a "new paradigm" in Europe has been created by Russia's actions during the Ukraine conflict. He did not rule out that NATO could permanently position troops on its eastern borders.
Germany's Der Spiegel magazine in its online edition this week cited internal NATO documents, in which the military alliance was deliberating potential scenarios that include a Russian military campaign in Eastern Europe.
Experts say that the alliance would presently face a major challenge, if forced to defend its Eastern allies, especially the Baltic states, under Article 5 of the NATO treaty. It states that an attack on one member would be viewed as an attack on all.
"Especially in Latvia, Russia would initially have a better strategic position," said German retired Gen. Harald Kujat, who served as chief of staff of the German armed forces and as chairman of the NATO Military Committee from 2002 to 2005. "The problem for NATO would be to bring an adequate number of forces in a timely fashion to the region. This would take months."
Need to deploy diplomacy, too
Kujat added that the military alliance failed to use diplomatic weapons despite the fact that it had signed an agreement with Russia that called for a joint endeavor to settle disagreements within the framework of political consultations.
In 1997, NATO and Russia signed the 'Founding Act on Mutual Relations' in which the two sides vowed to "overcome the vestiges of earlier confrontation and competition and to strengthen mutual trust and cooperation."
Kujat said "the NATO-Russia agreement is not only a compulsory basis, but also the fundament for active crisis management."
After highlighting its military capabilities in recent weeks, NATO on Monday invited Russia to the negotiating table, saying that the Russia-NATO council could meet as early as next week.
NATO defense ministers are expected to discuss the long-term consequences for the alliance at a meeting in the first week of June.
Piatt added that reduced military spending over recent years has highlighted the importance of NATO.
"Now is the time that we have to train interoperability more, not less, so that we can build a smart defense with the limited forces and resources that every nation has and together we're very strong," he said.
Alexander Smith of NBC News contributed to this report from London.