Chancellor Angela Merkel of Germany — a pivotal figure in the standoff between Russia and the West — is in Washington for talks with President Barack Obama at a crucial point in the crisis.
When they meet Friday, the two leaders are expected to discuss when to pull the trigger on tougher sanctions against Russia for its aggression in Ukraine, including hitting the economically vital Russian energy industry.
Obama wants the United States and Europe to stand together and force Russia to rethink its moves in Ukraine. That is a trickier proposition for Germany, which would be hit harder by blowback from major sanctions because of its huge economic interests in Russia.
The meeting could offer a chance for Merkel to begin preparing the German public for the necessity of stronger sanctions — something she has not done, said Heather Conley, director of the Europe Program at the Center for Strategic and International Studies.
"We've been in this throat-clearing stage. Now we're going to have to be a little more demonstrative of 'We actually do mean this,'" she said. "This is going to be very, very difficult for Europe."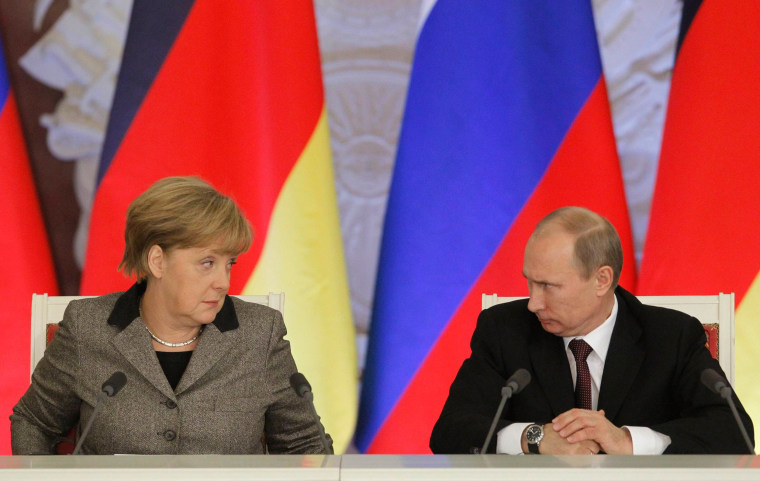 Merkel holds a unique position in the crisis: She speaks regularly, and can speak in Russian, with President Vladimir Putin. Her country is the economic and political powerhouse of the European Union.
But she is under intense pressure from business interests at home, plus segments of the German public, not to hit Russia too hard, said Julianne Smith, a former deputy national security adviser to Vice President Joe Biden.
Adding an element of tension, Germany is still furious about National Security Agency eavesdropping, which reportedly extended to Merkel's own phone.
"It will not be all sweetness and light. She's coming. That's important," said Smith, director of the Strategy and Statecraft Program at the Center for a New American Security, a nonpartisan policy center in Washington.
The United States and Europe imposed another round of targeted sanctions against Russia this week, but the situation has not improved in eastern Ukraine, where pro-Russian militants have seized Ukrainian government buildings for weeks.
"The tragedy would be if this drives a wedge between Europe and the U.S."
Merkel called Putin on Thursday and asked for his help getting seven international monitors freed by pro-Russian gunmen. Putin told her that the most important thing was for Ukraine to pull its own troops out of the area, according to the Kremlin.
She has previously told Putin that Russia is not doing enough to rein in the militants.
At the White House, Merkel will meet with Obama on Friday morning in the Oval Office before a joint news conference. She will speak to the Chamber of Commerce and meet with the head of the International Monetary Fund before flying home.
Merkel has another priority — as important as, if not more important than, Ukraine. Her speech at the Chamber of Commerce is designed to win support for a trans-Atlantic trade deal between the United States and Europe.
But the question of how to handle Ukraine will be watched most closely. The severity of future sanctions "could be a big area of disagreement moving forward," Smith said.
"The tragedy would be if this drives a wedge between Europe and the U.S. in our approach," she added. "That gives Putin endless delight. He loves to see that."