SIMFEROPOL, Crimea — The McDonald's in the coastal city of Yalta used to be one of the busiest restaurants on the waterfront. It now stands closed "due to circumstances beyond our control," according to a chewed-up note on the door. While the Golden Arches stay dark, Russian flags top nearby buildings.
Celebrations took place in Crimea on Monday to celebrate the one-year anniversary of a disputed referendum to join Russia after Moscow's military entered the Ukrainian peninsula. But the festivities in the peninsula's capital of Simferopol did little to hide the isolation that has resulted from the controversial annexation and international sanctions which followed.
McDonald's was not the only international company to withdraw from Crimea: many others followed, including PayPal, Amazon, and even Russian banks.
Once a thriving resort zone, Crimea now stands separated from the rest of the world: international cell phones do not work, and neither do credit cards.
Visa and MasterCard have both ceased operations in Crimea, essentially crippling the region's financial system: Paying by card is no longer possible, and businesses cannot wire or receive payments.
The sole land link to the Ukrainian mainland was closed off by Kiev, food prices have skyrocketed, tourist flows are down and 3G cellphone service is off. The peninsula is even lacking in fresh water and electricity, more than 80 percent of which came from Ukraine.
Still, many pro-Russian locals are defiant.
Several of those present at a government-sponsored rally in Simferopol praised the annexation.
"I'm feeling elated, and have grown even more elated over the past year, even more joyful that our dreams came true," the elderly Zoya Voinova told NBC News.
"The transitional period is chaos," acknowledged Yalta souvenir vendor Zinaida, who would only give one name. "But with the annexation, I feel like I'm back home after two decades in the waiting zone."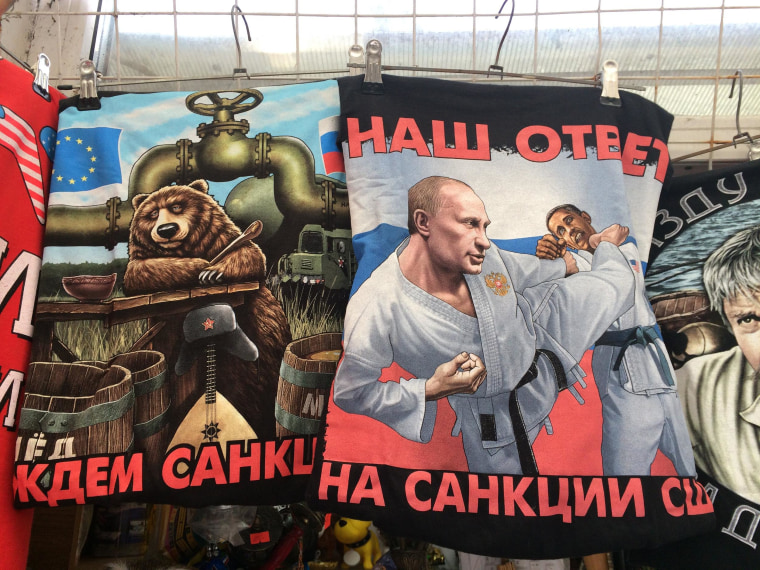 Along with the usual souvenir fare, Zinaida sells T-shirts showing Russian President Vladimir Putin kicking Barack Obama in the face; on another, a Stars and Stripes stick figure is shown sexually submitting to another stick figure in Russian colors.
But in financial terms, the Stars and Stripes comes out on top — the peninsula is struggling after the United States, along with the EU and Ukraine, imposed sanctions against Crimea and businesses that work there.
"We are cut from the rest of the world. What's the point of having a business here if you can't receive the money from it?" said Nikolai, a businessman from the local city of Sevastopol who declined to give his full name because he feared trouble from authorities.
Crimea once hosted a bustling outsourced computer programming industry, in which Nikolai made a living. But now the industry is dead in the water: few IT companies can work on a sanctioned peninsula, so most have shut down their businesses. Some fortunate employees were relocated.
"I just can't take it anymore," said Nikolai, who told NBC News he and his wife are eating through their savings and considering emigration.
The tourism industry has not fared much better: Russian figures show tourist inflow in Crimea in the first post-annexation year has approximately halved compared to 2013, when nearly six million people came to visit — more than half of them Ukrainians.
Ukrainian authorities stopped all trains to Crimea and installed border checkpoints that stop incoming cars.
Travel to Crimea is still possible by plane and ferry, but both the airport and the ferry line are oversubscribed. Ferry delays caused by choppy seas have generated lines of up to 4,000 cars waiting for the chance to sail.
"Business is flagging because people can't travel," said Maxim, who oversees a shooting booth on Yalta's seafront. "We're surviving, but many people have gone out of business."
Russia has created banks to help with domestic money transfers and has pledged to build a bridge to Crimea. But the $3.7-billion construction — developed by businessman Arkady Rotenberg, an associate of Putin — won't be finished until 2018, even if deadlines are met.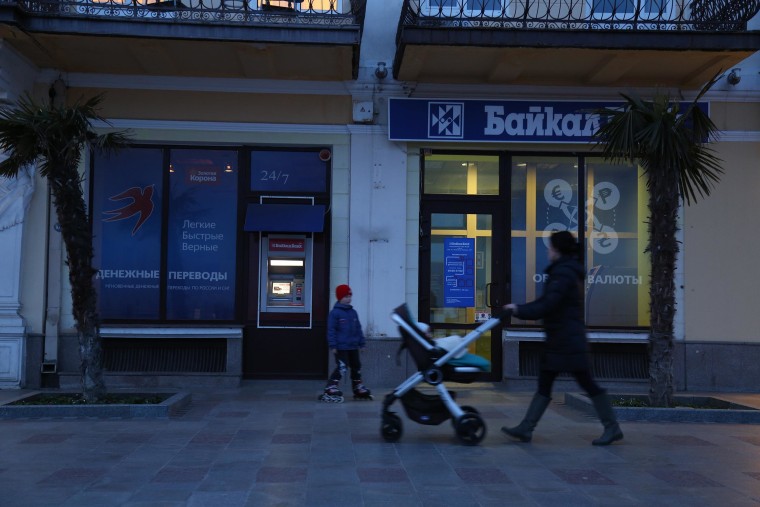 Agriculture also has suffered after Ukraine in April shut off a water channel that provided 85 percent of the arid area's fresh water. No drinking water shortages have been reported so far, but most of Crimea's rice crop and 35 percent of last year's vegetables were lost, according to local officials.
The peninsula now has to import most of its food from Russia — but thanks to the transportation blockade and Russia's own economic crisis, local food prices have grown 2.5 times compared to last year, according to the region's government.
Sometimes that food has to be eaten by candlelight since Crimea, which gets its electricity from Ukraine, is also plagued by power shutdowns. The biggest, shortly before the New Year, left hundreds of thousands without electricity for three days. A local crocodile died during the blackout because the reptile could not handle the winter cold.
Amid the downturn, Yalta's mayor, Andrei Rostenko, earlier this month put aside Russia's current America-bashing and asked McDonald's to reopen its restaurant. But so far, the nearest Big Mac is still only available on the Russian mainland — or in Ukraine.
Photo Gallery: Putin Appears in Many Forms at Crimea Celebrations