NOVOAZOVSK, Ukraine - Pro-Russian rebels conquering territory in eastern Ukraine are fighting under a new flag that betrays their - and perhaps the Kremlin's - soaring ambitions. The blue cross set on a red background, which is stitched into uniforms and flies on tanks, represents Novorossiya or 'New Russia' - a notional state that would swallow southern and eastern Ukraine.
It is slowly replacing the disparate flags representing individual independence-minded groups in the regions of Donetsk. Indeed, the separatist regional administration flag in central Donetsk – one of the rebel headquarters – is now flying the Novorossiya flag.
The fighters' ambitions mirror the flag's reach.
A rebel commander who recently captured a key town on the road leading to the strategically important town of Mariupol said his men were not about to lay down their arms in a cease-fire, as was reported earlier. They also planned to go as far as the city of Lviv, which lies even further west than Ukraine's capital, Kiev.
"During [World War II] we freed the territory of the Soviet Union and we went further to Berlin," said the commander, who calls himself "Gyurza" and whose men now fight under the Novorossiya flag. "Our aim is Lviv."
His declaration followed conflicting statements from Kiev and Moscow, with the Ukrainian government at one point saying it had reached a "permanent cease-fire" with Russian President Vladimir Putin, which was denied by Moscow.
Putin later suggested that an agreement "to end the bloodshed" could be reached as early as Friday, which Ukraine's prime minister shot down, saying the Russian leader was simply trying to avoid further European and American sanctions.
Whatever his plans for a cease-fire or truce, Putin himself has been using the term Novorossiya to describe the part of Ukraine that Russia controlled during the 19th century for months.
On Friday, Putin addressed the militia of Novorossyia, and praised their "major success" inside Ukraine in a statement on the Kremlin's website.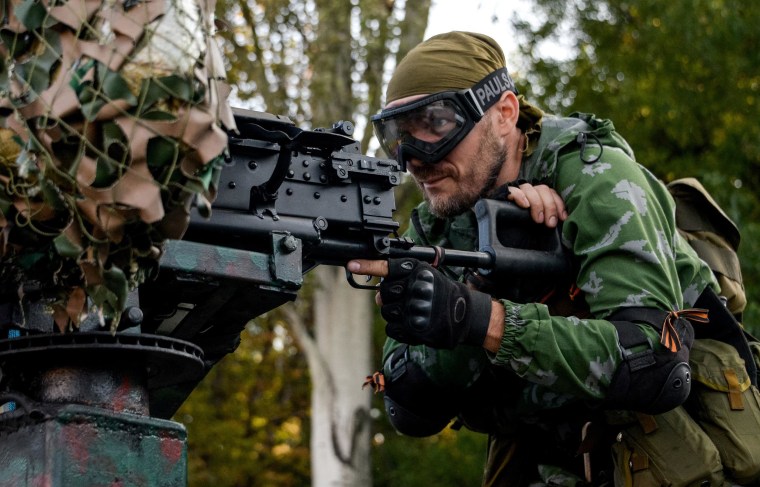 Novorussiya encompasses a region north of the Black Sea that was conquered by Russia in the 18th century and became part of the Soviet Union in 1922.
That the term is often used by nationalists in Russia who wish to "retake" parts of Ukraine is significant, but so is the fact that pro-Russian rebels are now fighting under its flag.
Ukraine and the West accuse Russia of equipping, training and fighting with separatists. At least 1,000 Russian troops are in Ukraine, according to NATO, which has released what it says are satellite photos of Russian self-propelled artillery units.
Moscow maintains that it has not sent its soldiers or equipment to fight in Ukraine.
In recent days, the separatists fighting under Novorossyia's blue and white have advanced, capturing new territory, including Novoaszovsk.
Upon entering the town, at what is in effect a new front in the conflict a few miles from Mariopol, soldiers who said they were Russian checked an NBC News crew's documents. Nearby, a column of armored personnel carriers (APCs) and vehicles carrying armed rebels looked battle ready.
"Russians don't start a war," the rebel commander Gyurza said. "Russians finish a war."