Pro-Russia forces stormed the Ukrainian naval headquarters in the Crimean city of Sevastopol on Wednesday, according to an eyewitness account from an Associated Press photographer.
The photographer witnessed several hundred members of "self-defense" units take down the gate, enter the headquarters' premises, and raise the Russian flag.
A Reuters witness reported seeing three Russian flags flying above the base, as well as three armed men, possibly Russian soldiers in unmarked uniforms, at the gate.
About a dozen Ukrainian servicemen were later pictured being led out of the base.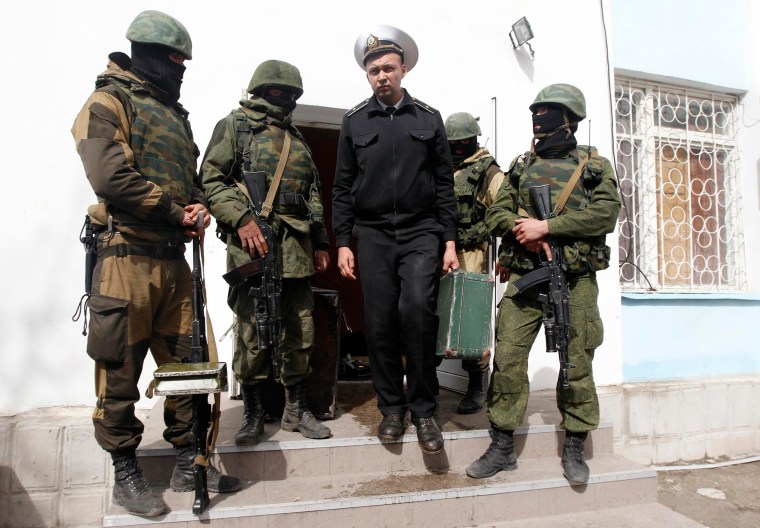 The reports come a day after Russian President Vladimir Putin signed a treaty with Crimean leaders to annex the Ukrainian peninsula.
Hours after the treaty was signed, the Ukrainian military said one of its servicemen was killed in an attack on one of its bases by pro-Russian forces in the regional capital Simferopol.
The Ukrainian military authorized its forces to use weapons to defend themselves following the attack.
However, Russian state-run news agency RIA Novosti cast doubt over the incident, saying the Ukrainian defense ministry had failed to identify the culprits and that the report had been "circulated" by foreign media.
Citing a Crimean news agency, it said that in fact it was a pro-Russia militiaman who had been shot dead by snipers "while searching for a group of unidentified gunmen" in the streets of Simferopol. Two others were injured, it said.
NBC News was not able to independently confirm that account.
Reuters and The Associated Press contributed to this report.
- Alexander Smith