DONETSK, Ukraine - Pro-Russian demonstrators in eastern Ukraine smashed their way into public buildings and burned Ukrainian-language books on Sunday in further protests following two deadly clashes in the region last week.
Protests, some several thousand strong, spread to Russian-speaking southern districts as Ukraine's Crimean peninsula, under the control of the Russian military for two weeks, voted in a referendum on joining Russia.
In Donetsk, the heart of the Donbass coalfield, where a pro-Ukrainian activist died in clashes on Thursday, 5,000 protesters roamed from a central square to several public buildings, smashing doors and windows as they went.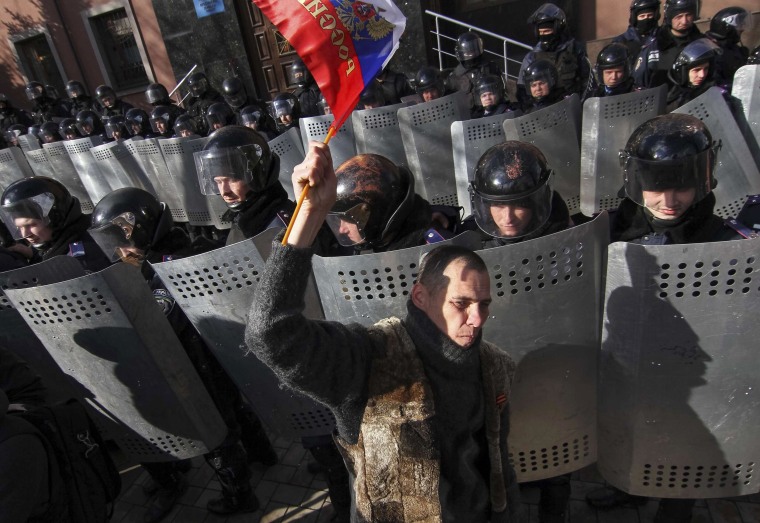 They massed for a time outside the local prosecutor's office before lines of riot police let them through and they pushed their way inside with poles and sticks. A small group clambered onto the roof, snatched away the blue and yellow Ukrainian flag and waved red-white-and-blue Russian standards.
Activists then moved on to the offices of the SBU security service, pushing their way inside for the second day running, before going to the headquarters of the Industrial Union of Donbass, owned by magnate and local Kiev-appointed governor Sergei Taruta.
Activists, many of them bearing the orange and black colors of the "St George ribbons" worn by Russian nationalists, were demanding the release of an activist who had briefly proclaimed himself "people's governor" of the region this month.
Several thousand pro-Russian demonstrators marched through the streets of the Black Sea port of Odessa.
Two cities held impromptu "referendums", banned by local courts, echoing the vote being conducted in Crimea.
In Luhansk, a coal-mining center in northeastern Ukraine, organizers set up ballot boxes in a square asking voters five questions ranging from Kiev's new leaders to the creation of a federal state. A similar referendum was staged in the southern city of Mikolayiv.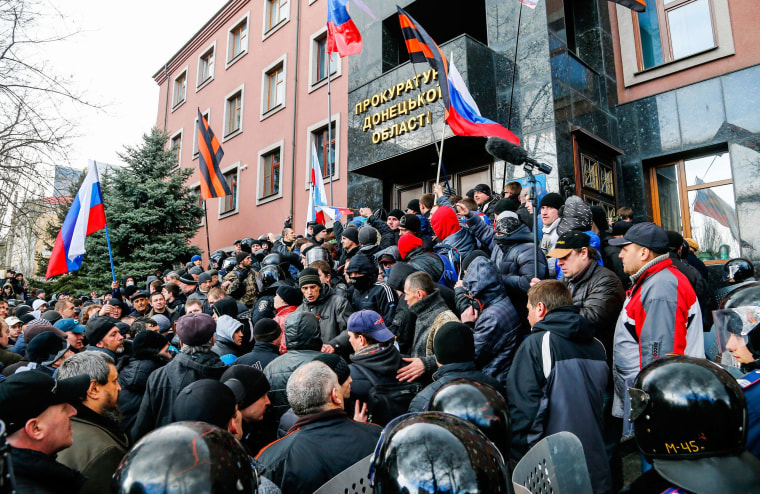 — Reuters