Pro-Russian separatists in eastern Ukraine called for an armed insurrection against the country's new Western-backed government on Monday.
The Donetsk People's Republic, a self-proclaimed splinter state that has taken over parts of the country's Russian-speaking east, issued the call to arms.
The group urged people to use the "unconditional right of all the citizens to take up arms and to conduct a sacred war." It said the insurrection would take place on Friday, the anniversary of Victory Day when Nazi Germany capitulated to the Soviet Union in World War II.
"We urge you to mark Victory Day on May 9 the same way as our grandfathers and great grandfathers did, to give battle to the ... new fascist boot that is stamping on our land, burning, killing and crippling people," it said in a statement on its website.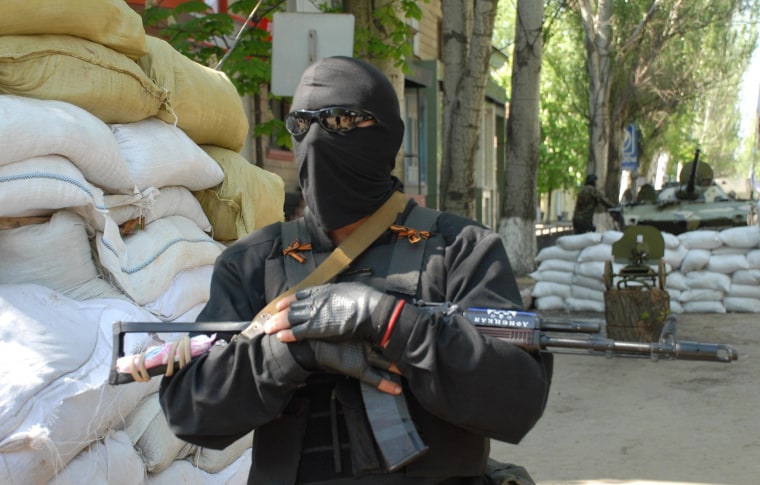 Separatists occupied towns and cities across the east last month. Ukraine has tried to wrestle back control with several "anti-terrorism" operations but with varied success. Friday saw the most violent day of the crisis since February, when scores of people died in a fire sparked amid clashes in the southwestern city of Odessa.
Monday's statement reiterated attempts by pro-Russian Ukrainians and Moscow to characterize Ukraine's government as being heavily influenced by the far right. These claims are rooted in extremist groups' prominence in violent protests leading to President Viktor Yanukovych's ouster.
The Donetsk People's Republic said deaths across the east and Odessa in recent weeks were caused by "successors of the fascist S.S.," a reference to the most feared organ of the Nazis, who were being supported by the "Kiev junta" as well as the United States and Europe.
"We are warning everyone: The fascism will not retreat by itself, it will not pass like a bad dream if it is not stopped by an armed force."
- Maria Stromova and Alexander Smith