ODESSA, Ukraine — Hundreds of pro-Russian activists attacked a police station in this southern port city, forcing open its gate and breaking windows.
The prison is holding dozens of those arrested after the unrest here on Friday.
Hundreds of activists surrounded the building and called for the release of their detained comrades.
"Russians won't abandon their own!" the militants chanted as they smashed windows and broke down the gate at the compound.
Others shouted "Russia! Russia!" and "we will not forgive!"
About 20 to 30 people were allowed to leave the prison, NBC News confirmed, although local reports said nearly 70 prisoners were released.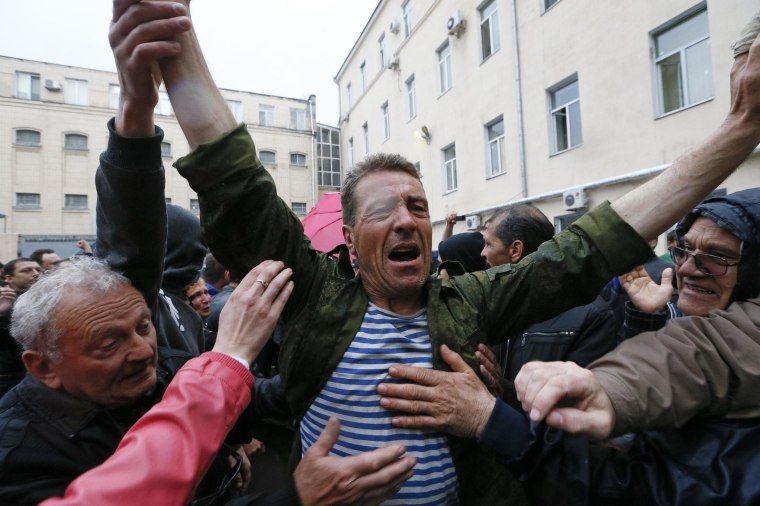 Prime Minister Arseny Yatseniuk, speaking in Odessa, which is on the western, Black Sea stretch of Ukraine's coast, accused Russia of engineering Friday's clashes there that led to the deaths of more than 40 pro-Russian activists in a blazing building.
But he was pointedly critical of the police.
"If the law enforcement system in Odessa had worked not exclusively on the 'Seventh Kilometer' and had protected people, then these terrorist organizations would have been foiled."
The Seventh Kilometer is an open market on the edge of Odessa, associated in the popular consciousness with the corruption and black market business that have marked Ukraine's 23 years of post-Soviet independence. He said changes were being made in the leadership of the police in Odessa.
Friday's deaths occurred after running clashes, involving petrol bombs and gunfire, between supporters and opponents of Moscow on the streets of Odessa, where the majority of people speak Russian.
The pro-Russian activists were trapped in a building as it burned down.
It was not clear who had thrown the petrol bombs that started the fire but pro-Russian demonstrators at the police station on Sunday blamed pro-Kiev activists.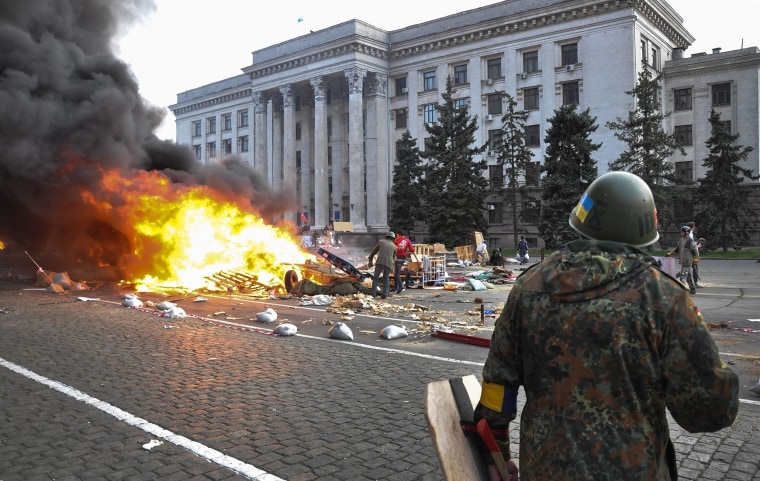 — with Reuters