Ukrainian troops continued their push Thursday to wrest back control of the east of the country from pro-Russian militias, clearing several towns and checkpoints manned by the separatists.
The interior ministry said its forces had killed "up to five" pro-Russian separatists during its operation to retake the city of Slaviansk, one of the nine towns and cities in the Donetsk region under the de facto control of pro-Russian forces.
Earlier, troops riding in five light armored vehicles cleared a checkpoint north of the city, Reuters reported.
However it was clear that the separatists were not prepared to go down easily. Slaviansk's self-appointed separatist mayor, Vyacheslav Ponomaryov, told a news conference Wednesday night that "we will make Stalingrad out of this town," referring to the Soviet Union's five-month city defense against the Germans in World War II.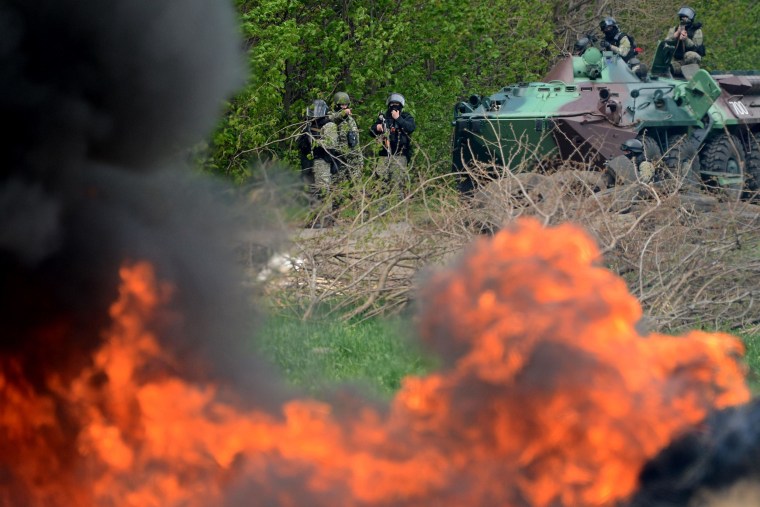 Ukraine announced Wednesday it was restarting an "anti-terrorism" operation to clamp down on the armed separatists who seized buildings and demanded a referendum to join Russia earlier this month.
The first action of this renewed drive came when the interior ministry announced it had "liberated" the resort town of Svyatohirsk "from unlawful armed groups," according to the Kiev Post.
This was followed in the early hours of Thursday by another announcement that the City Hall in Mariupol had been cleared of the separatists who had been occupying it.
However there was some confusion about the details of this incident. Interfax reported Ukrainian Interior Minister Arsen Avakov as saying the position was cleared by security forces, but he added that "the role of civic activists was great."
Yulia Lasazan, a spokeswoman for Mariupol's police department, told The Associated Press that 30 masked men with baseball bats stormed the building and started beating the pro-Russian protesters. The pro-Russians called the police and five people were taken to hospital, the AP reported.
- Alexander Smith