/ Source: Associated Press
DONETSK, Ukraine – Pro-Russian separatists who seized a provincial building in the eastern Ukrainian city of Donetsk proclaimed the region independent Monday — an ominous echo of events prior to Russia's annexation of Crimea. Ukrainian authorities called the move an attempt by Russia to sow unrest.
The Interfax news agency said the activists demanded that a referendum be held no later than May 11 on the possible secession of the Donetsk region, which borders Russia.
Pro-Russian crowds on Sunday had stormed government buildings in Donetsk, Luhansk and Kharkiv, all cities in Ukraine's heavily Russian-speaking east. Authorities say all the storming parties appeared to have been armed. The government was struggling Monday to regain control of those buildings.
Ukrainian Prime Minister Arseniy Yatsenyuk accused Russia of being behind the unrest as a pretext for sending troops across the border.
"The plan is to destabilize the situation, the plan is for foreign troops to cross the border and seize the country's territory, which we will not allow," he said, adding that those taking part in the unrest had distinct Russian accents.
The Russian Foreign Ministry rejected the allegations but reaffirmed its long-held demand that the Ukrainian government turn the country into a federation with broader powers for provinces. It added that such reforms should also seal Ukraine's non-aligned status and ensure a special status for the Russian language.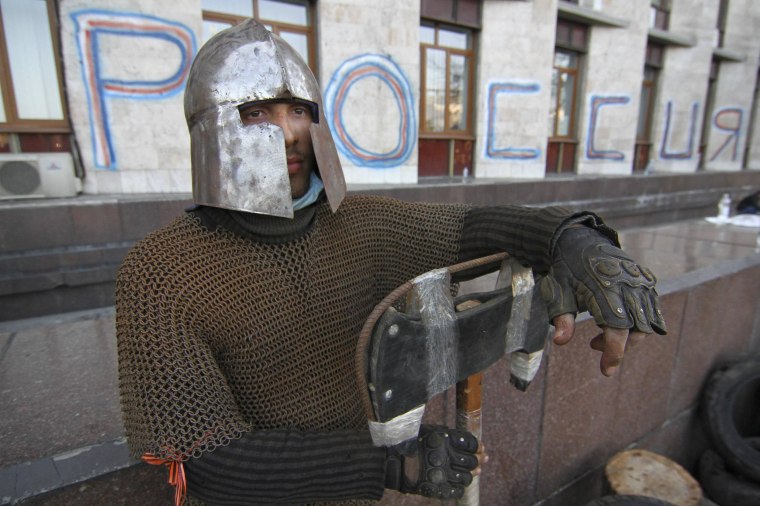 "If the political forces that call themselves the Ukrainian government continue to take irresponsible attitude to the fate of the country and its people, Ukraine will inevitably face new difficulties and crises," the ministry said in a statement.
The Associated Press