KIEV — Ukrainian opposition protesters ended a two-month occupation of city hall in Kiev on Sunday and opened a road to limited traffic to meet an amnesty offer aimed at easing a stand-off over President Viktor Yanukovich's rule.
The authorities, for their part, withdrew riot police from a flashpoint district of the capital, near the Dynamo Kiev football stadium, where at least three protesters died in January in violence between ultra-radical activists and police.
Despite the conciliatory moves, opposition leaders sought to keep up pressure on Yanukovich, telling a rally in Kiev's Independence Square that he must abandon "dictatorial" powers and let them form a government that would be independent of him.
Tension still simmered before a parliament session on Tuesday when Yanukovich may present his candidate for prime minister - a choice that will show if he is ready to make more concessions to the opposition.
Opposition leaders made it clear on Sunday they would also push at the parliament session for constitutional changes to reduce Yanukovich's powers.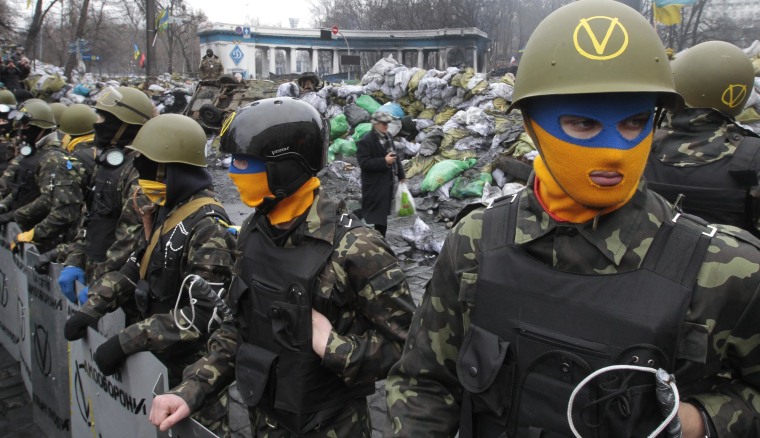 The unrest was sparked by Yanukovich in November when he spurned a free trade agreement long in the making with the European Union and opted for a $15 billion package of Russian credits and cheaper gas to shore up Ukraine's ailing economy.
The revolt spiraled into countrywide protests at perceived sleaze and corruption in the Yanukovich administration and has triggered a geopolitical tussle between East and West.
At least six people have been killed and hundreds of people — police and protesters — wounded in the bloodshed.
As Sunday's peaceful rally unfolded on Independence Square, attracting several thousand, young club-wielding masked men from the radical fringe of the protest movement were on patrol, looking for government agents known locally as "titushki."
—Reuters