European powers are backing a new cease-fire agreement announced Saturday for embattled eastern Ukraine, where Ukrainian forces and Russian-backed separatists have been locked in conflict for three years.
Russian Foreign Minister Sergei Lavrov said the deal, set to begin Monday, was settled with input from his German and French counterparts, and comes after two other internationally-brokered cease-fires have fizzled in a region where the fighting has only raised tensions between Russia and the West.
"On Feb. 20, the cease-fire regime will start, and withdrawal of heavy military hardware will also start to the places where they are supposed to be," Lavrov said Saturday after the talks at the Munich Security Conference in Germany, which was attended by various world leaders.
"We have actively supported this decision and obviously expressed a conviction that this time, failure should not be allowed to take place," he said.
It was unclear whose "military hardware" Lavrov was talking about — Ukraine's or that belonging to the Russian-backed separatists — and what territory they would be moved to, as the Russian and Ukrainian governments dispute the territorial lines.
Related: Ukraine Fears That Putin Will 'Step Forward' if Trump Pulls Back
While the specifics of the deal remain murky, Ukrainian Foreign Minister Pavlo Klimkin told reporters minutes before Lavrov's statement that he was "not at all" pleased with the conclusion of Saturday's meeting, Reuters reported.
He added that the so-called Normandy Format — which consists of Russia, Ukraine, Germany and France — formed no "powerful results."
In a separate event in Munich, German Chancellor Angela Merkel spoke about the long conflict in Ukraine and lamented that the Minsk Protocol — brokered in September 2014 to halt the armed conflict in the Donbass region — had not been followed by the Russian-backed separatists.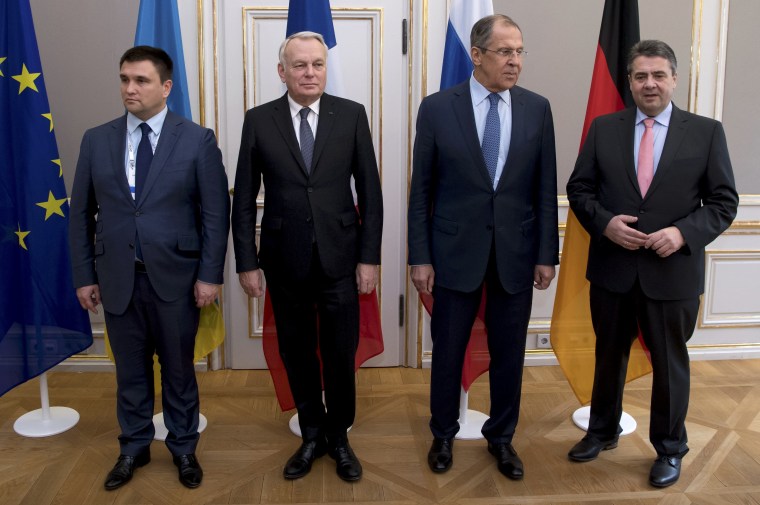 The agreement aimed to end fighting in the disputed area of Ukraine.
"The Minsk agreement is the only channel we have to bring a solution to this conflict," Merkel said. "The Minsk agreement started on the assumption that there was a road map, but when it was enacted there was no continuous cease-fire."
NATO allies laid the consequences of the conflicts at the feet of Russia, which has claimed no responsibility for the separatist activities, although it annexed Crimea from Ukraine in March 2014. Most nations, including European Union members and the United States, do not recognize Crimea as a part of the Russian state.
A Ukrainian hacker group named Cyber Hunta also published a gigabyte's worth of emails from the office of one of Russian President Vladimir Putin's top aides that shows conclusive evidence that Russia was actively engaged in supporting the separatist movement in Ukraine.
Since then, European nations have grown increasingly alarmed by Russia's use of force along its western border.
"We have seen a more assertive Russia," NATO Secretary General Jens Soltenberg told CNBC at the Munich Security Conference. "We have seen a Russia that has invested heavily in new military capabilities, which has tripled spending on defense over the last years, and — most importantly — which has been willing to use military force against neighbors in Georgia and Ukraine. And that's exactly why NATO is responding in a measured defensive way."
Stoltenberg said NATO will invest in defense upgrades for any new conflicts, whether that's on the ground or in cyberspace.
"We have to be agile. We have to be prepared for the unforeseen," he added. "And that's exactly what we are doing when we are increasing the readiness of our forces, when we are increasing the presence of our forces in the eastern part of the alliance — and we are."
President Donald Trump has flip-flopped on his support for NATO. After the November election, he told the Times of London that the 28-state alliance is obsolete, but then earlier this month said "we strongly support NATO." Meanwhile, he has refused to criticize Russia, recently stating that the United States is morally equivalent to Putin.