Moscow said it has been "forced" to fire up fresh military exercises on the Ukrainian border Thursday in response to an Ukrainian government operation against pro-Russian separatists.
Ukrainian troops killed at least five people during its attempts to take back Slaviansk, a city 100 miles from the Russian border that was one of those seized by activists wanting to come under Russia's rule.
"The order to use force against civilians has already been given, and if this military machine is not stopped, the amount of casualties will only grow," Russian Defense Minister Sergey Shoigu said, according to the Kremlin mouthpiece broadcaster Russia Today.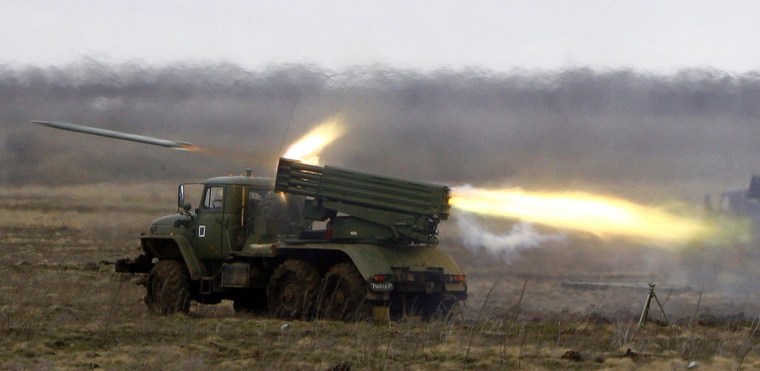 In response to the drills, Ukraine's interim President Olexander Turchynov urged Russia to pull back its troops and said that Moscow's actions were tantamount to "blackmail," according to a Reuters translation.
Ukrainian troops renewed their drive against the separatists Wednesday and took back control of at least one town and several checkpoints across the Russian-sympathetic Donetsk region.
Shoigu said Ukraine had 11,000 troops, 160 tanks, 230 armored carriers and at least 150 artillery vehicles, while the pro-Russian militias — whom the U.S. says are backed by Moscow — only had 2,000 men and 100 guns between them.
He also criticized NATO after the U.S. committed more troops to Poland and the Baltic countries Wednesday.
"War games by NATO in Poland and the Baltic states are not helping the normalization of the situation. We are forced to react to the situation," he said.
Reuters contributed to this report.
— Alexander Smith