MOSCOW — A Ukrainian army officer was convicted of murdering civilians on Tuesday by a Russian court.
The court ruled 34-year-old gunship pilot Nadiya Savchenko coordinated artillery fire that killed two Russian journalists during the conflict in eastern Ukraine in 2014.
The Iraq war veteran — who is considered a national hero in Ukraine and has been described as the country's "Joan of Arc" — was also found guilty of crossing a border illegally. She was sentenced to 22 years in a Russian prison.
Savchenko burst into a patriotic song upon hearing the verdict Tuesday, drowning out the judge and necessitating a break in the hearing.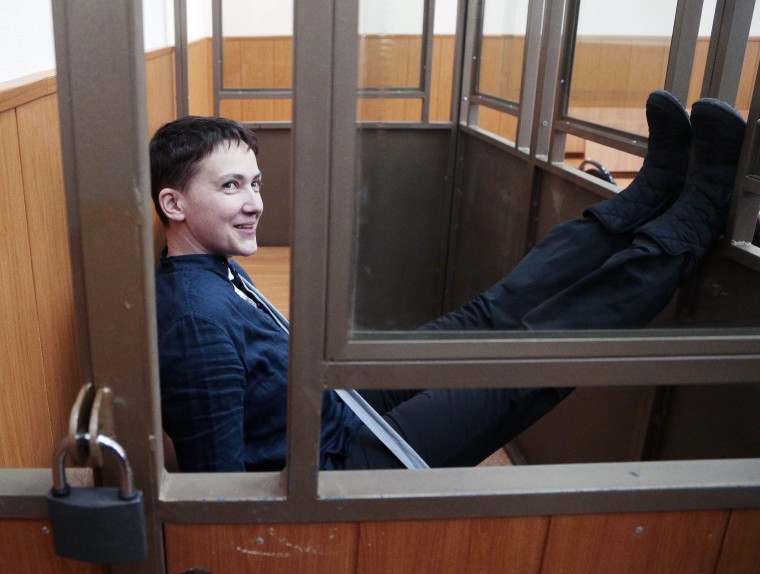 Pro-Russian rebels waged war against the Ukrainian government in 2014 and 2015. Officials in Kiev, as well as the United States, accused Russia of supporting the insurgency with arms and troops, a charge Moscow denies.
Savchenko denied all accusations, claiming she was captured by the separatists and handed over to Russia for an alleged kangaroo court intended to support Russia's allegation of Ukrainian war crimes.
President Barack Obama and EU leaders have previously demanded her release.
Savchenko was elected to the Ukrainian parliament while in Russian detention. She was also made Ukraine's representative to the European parliament.
Ukrainian officials have suggested she may be exchanged for Russian captives after the verdict. Russia said the matter could only be raised after the trial.
Savchenko said she would not appeal a guilty verdict to expedite her exchange, her lawyer Mark Feygin said on Facebook on Tuesday.
She repeatedly staged hunger strikes while in detention and earlier this month even flashed the judge her middle finger.