Not only are Russian forces taking over Ukraine's military bases in Crimea, they're taking over Ukraine's dolphins, too — but purely for defensive purposes, according to Russian reports.
The reports surfaced on the state-run Voice of Russia and RIA Novosti, causing an international stir. After all, the marine mammals were said to have been trained in the 1960s and '70s to attack divers and plant explosives on enemy targets.
After the Soviet collapse, the military training facility in Sevastopol was converted to civilian use, and the bottlenose dolphins settled down to activities such as swimming with disabled children.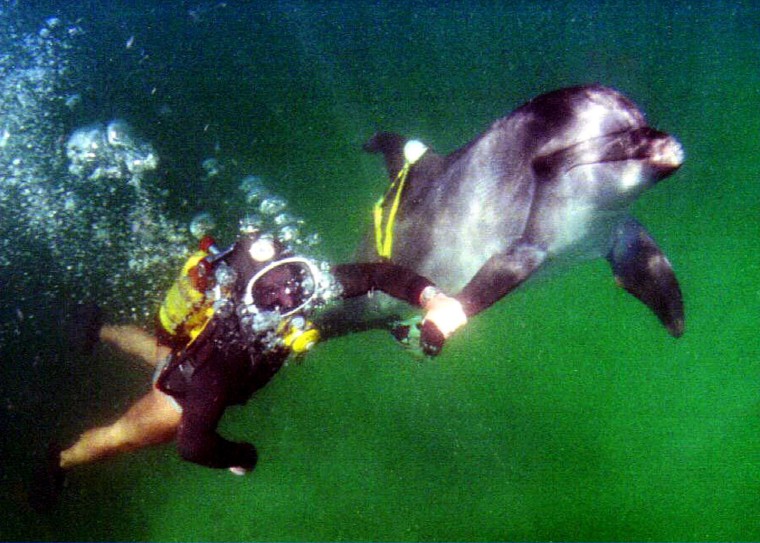 In 2012, RIA Novosti reported that the Ukrainian Navy was reviving the military program — to the point of outfitting the dolphins with knives and pistols on their heads. Even if the report was true (and there's some question about that), the plan didn't get far.
But with Russia's takeover of Crimea, the program is getting a boost from the Russian Navy, an unnamed employee at the Sevastopol State Oceanarium told RIA Novosti:
"The oceanarium's engineers are developing new instruments for new applications to boost the operational efficiency of the dolphins underwater," the employee said, requesting anonymity. The employee added the animals are currently outfitted with extremely outdated equipment.
A follow-up from RIA Novosti said that the dolphins' main mission would be to patrol the waters around Russian ships, looking for mines, sunken objects or underwater swimmers.
Those are the same missions that the U.S. Navy's dolphins and sea lions are trained to carry out at the Space and Naval Warfare Systems Command, or SPAWAR, in San Diego. SPAWAR spokesman Ed Budzyna said the marine mammals' abilities to identify targets underwater are "unmatched by any robotic system" and have come into play during war and peace.
So where does Russia's newly acquired dolphin program rate on the U.S. Navy's threat scale? Not that high. "I thought it was disbanded," Budzyna told NBC News.