Tighter U.S. and European sanctions to contain Moscow's Ukrainian land grab will be tough to pull off. But if fully deployed, they could be very painful to Russia's already weakening economy.
For all the headlines, the sanctions invoked so far against Moscow for invading Crimea amount to little more than a slap on the wrist.
"The sanctions so far from the U.S. and Europe are primarily signaling, but they're not going to fundamentally change Russian behavior," former World Bank president Robert Zoellick told CNBC.
The "signals" include Russia's suspension from the Group of Eight major industrialized powers on the eve of a long-planned summit in Sochi. U.S. and European authorities have also frozen the assets of a handful of President Vladimir Putin's closest political allies.
Now, as the world watches Putin's next move, and U.S. and EU officials warn of escalating financial and trade sanctions, the Western allies face a tough reality.
Putin has a large ace up his sleeve: the vast supplies of oil and natural gas that Europe relies on to power its economy and heat its homes. As Europe's major energy supplier, Russia could respond to any tightening of the economic noose by shutting off gas supplies, leaving European capitals in the cold and dark.
The Russian government hasn't been shy about reminding Europeans where their energy comes from. Twice — during the depths of winter in 2006 and 2009 — Russia shut off gas supplies to Ukraine over trade disputes, crimping supplies further west in Europe.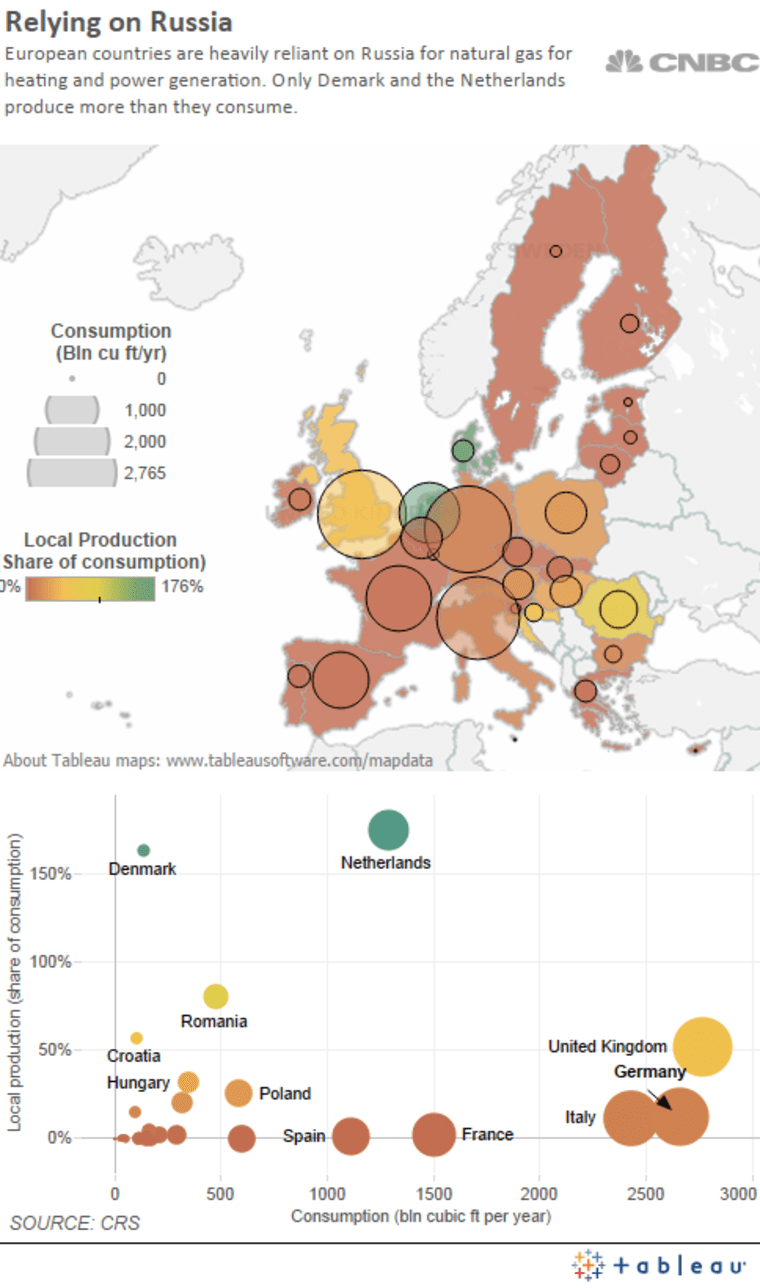 But those large oil and gas exports may be the only card Putin has to play. Meanwhile, U.S. and European leaders have a few cards of their own.
Several U.S. lawmakers have introduced bills urging the Energy Department to speed pending approvals of more than 20 projects to export U.S.-produced liquefied natural gas. Thanks to a boom in natural gas fracking, the American production is approaching a surplus position — which is why the U.S. has little fear from a possible Russian natural gas embargo.
But even if all 20 export projects were approved today, it would take years — and several very cold and dark European winters — before U.S. exports would have any meaningful impact on European supplies.
Still, with its economy weakening, Russia also can ill-afford any crimp in the supply of its biggest source of already-scarce capital.
Russia's heavy reliance on the cash from oil and gas exports is something of an Achilles heel for the Kremlin because the Russian economy depends heavily on that hard currency to buy manufactured products from Europe — and around the world.
Some 70 percent of the country's exports are related to energy and mining, while Russia imports roughly 80 percent of manufactured goods, according to the latest figures from the World Trade Organization. About a third of those imports — everything from vehicles to computer equipment — come from Europe.
And with a relatively small manufacturing base, Russia's economy is also highly vulnerable to canceled orders from U.S. and European customers. Some Russian companies are already feeling the chill of a drop in demand, according to Philip Uglow, chief economist at MNI, based on his firm's survey this month of 200 large Russian companies.
With its economy weakening, Russia also can ill-afford any crimp in the supply of its biggest source of already-scarce capital.
"What we've heard from Russian companies this month is that they're seeing a big fall in export orders," he said. "Certainly they're seeing some pain for the tension in Ukraine. They probably fear most trade or financial sanctions."
Extending the U.S. and European asset freeze beyond the current handful of Putin's political cronies would inflict additional pressure on Putin. That's because the cash accumulated by Russian oligarchs is also one of Russia's biggest exports.
"Sanctions that really targeted the banking system the same way that U.S. sanctions went after Iran, that could have a significant effect," Uglow said. "But that really requires a huge shift about pushing Russia away from the world economy as opposed to in it."
It also means convincing global financial companies, with strong political connections in Washington, London and Berlin, that containing Russian aggression in a capital-poor country like Ukraine is worth a substantial hit to the industry's bottom line.
"Fairly narrow targeted financial sanctions have been put forward, but a number of international financial interests are ready to get back to business as usual, which is often … the case," Stephen Yates, CEO at DC International Advisory, told CNBC. "So Putin sees himself as having weathered the wave, and so now onward and upward with whatever his agenda may be."
Organizing global economic sanctions is never easy, but the large outflows of Russian wealth parked around the world further complicates the process. Without strong European cooperation, the U.S. will have a tough time tightening the economic noose, according to Rep. Kevin Brady, R-Texas, chairman of the Joint Economic Committee.
"Traditionally Europe likes us to play the bad guys," he told CNBC. "That won't work in this case. The banking relationships in London, the business relationships across Europe, and the oligarch investments they've made are numerous."
The outflow of Russian cash has only picked up since the turmoil in Ukraine began. Russian officials have said the capital flight could hit $70 billion for the first three months of the year — more than the $63 billion that fled the country in all of last year.
Russia's economy can ill-afford to see more capital head for the exits. Though energy exports rebounded following a deep slide during the global recession, overall gross domestic product began slowing last year and is weakening further. Last year, GDP growth fell to 1.3 percent from 3.4 percent in 2012. MNI's Uglow figures Russia's GDP growth will fall below 1 percent for the rest of the year.