Russian troops stormed a Ukrainian-controlled airbase in Crimea on Saturday and its commander said he was being whisked away for "talks."
One Ukrainian was injured in the takeover of the Belbek airbase, which was one of the last facilities under Ukrainian control because Ukrainian troops refused to hand it over to the Russians, Ukraine's Col. Yuliy Mamchur told Reuters.
Armored vehicles entered the compound, and Russian forces waved automatic rifles and shouted warnings to the Ukrainian troops, Reuters reported.
Unarmed Ukrainian troops lined up in front of the base with their backs turned away from the Russians, but witnesses said they heard shots fired.
Mamchur said he didn't know if he would return safely from the Russian "talks" at an undisclosed location.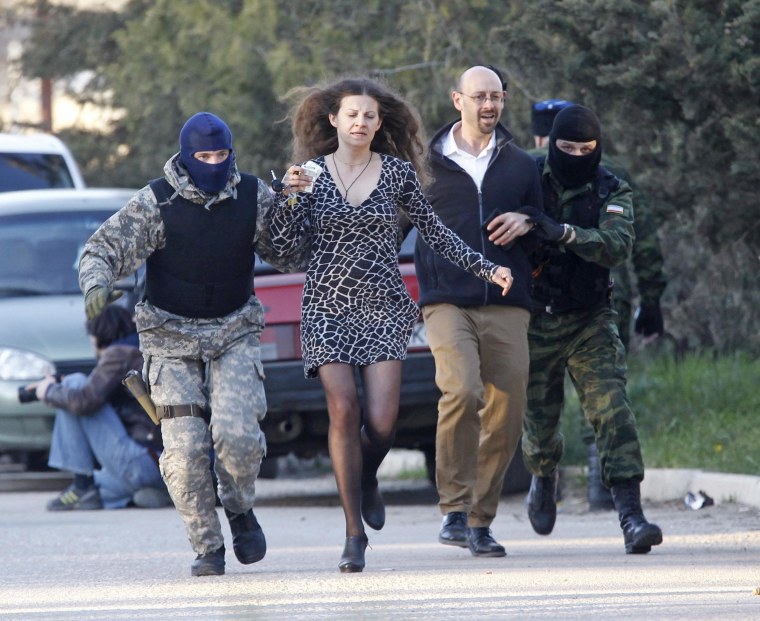 "The Russian military is directly responsible for any casualties that its forces — whether they be regular uniformed troops or irregulars without insignias — inflict on Ukrainian military members," a senior White House official told NBC News.
"Reports of continued attacks against Ukrainian military personnel and facilities highlight the dangerous situation created by Russia and belie President Putin's claim that Russia's military intervention in Crimea has brought security to that part of Ukraine," the official added.
A Belbek news site, Belbek62.com, warned: "Attention, storming is taking place! Belbek is in danger."
The site's live stream of the altercation went dark after the camera tilted downward for several seconds.
— Elisha Fieldstadt
NBC News' Kristen Welker and Reuters contributed to this report.