MOSCOW - Under relentless pressure from heavy-handed officials, Russians protesting their country's policies in Ukraine are getting creative.
At a recent Moscow fashion show, a young girl stepped down the catwalk dressed in Ukraine's national colors of yellow and sky blue before stopping and holding a gun to her head. The video of the performance went viral, causing a stir in Russian social media.
A morning commute on the Moscow Metro reveals a smattering of accessories in blue and yellow -- a subtle but striking statement.
On Aug. 20 the Russian capital awoke to televised images of one of the iconic "seven sisters" Stalin-era skyscrapers flying the Ukrainian flag, its showpiece golden star painted yellow and blue. Four young Russians were detained by the authorities even as journalists rushed to the scene.
Two days later, a daredevil going by the pseudonym "Mustang Wanted" posted a selfie on top of the skyscraper, and released a statement on his Facebook page claiming responsibility for the stunt.
He was demonstrating against Russia's actions in Ukraine, where Vladimir Putin's government is widely accused of fomenting and actively supporting a separatist rebellion. The United Nations estimates that the fighting between pro-Russian separatist and Ukrainians in eastern Ukraine has left over 2,590 people dead since the fighting began in mid-April this year.
Russian citizens could "become victims of the Russian law, which is widely famed for its fairness," Mustang Wanted said in his Facebook post, with obvious sarcasm. He repeated the stunt on Sunday, this time to mark Ukraine's Independence Day.
Wanted may have escaped censure but others haven't been so fortunate. When activists in Moscow tried to hang a Ukraine flag on the famous Bolshoi Kamenny Bridge to mark Ukraine's Independence Day, police detained them before they could finish.
The police's swift reaction underlines a bitter reality for any members of the opposition in Russia – Putin is overwhelming popular so only a minority support protests against his policies.
A translator who helps administrate a Facebook group against Russia's involvement in Ukraine is one of those determined to hang in there.
"I cannot let go of the situation that is going on and there is a Hitler-like dark gloom ahead. Where else can one go?" she told NBC News on the condition of anonymity.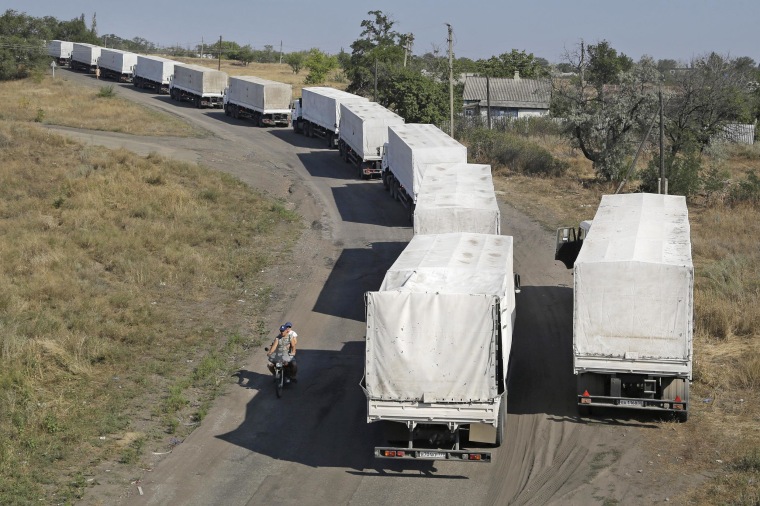 Moscow teacher Tamara Eidelman said the government's disregard for the rule of law is frightening.
"I think that there is nothing more important right now than to fight against the war [in Ukraine]," she said.
And it seems for Putin, there is little more important than punishing those who dare protest his government's actions. On July 22, he signed a new law criminalizing repeated street protest violations with up to five years in jail.
Protesting against the government was already pretty dangerous before the latest crackdown.
On May 6, 2012 tens of thousands of people took place in large anti-government demonstrations in what was widely known as the Bolotnaya protests. They became violent when some activists clashed with police, and 31 people have been prosecuted, and prison sentences up to four-and-a-half years.
They were charged activists for rioting, but the consensus is that they have been punished for simply daring to challenge the government. Similarly, members of the all-woman punk band Pussy Riot were convicted of hooliganism after performing an anti-Putin song in Moscow's Christ the Savior Cathedral in Feb. 21, 2012.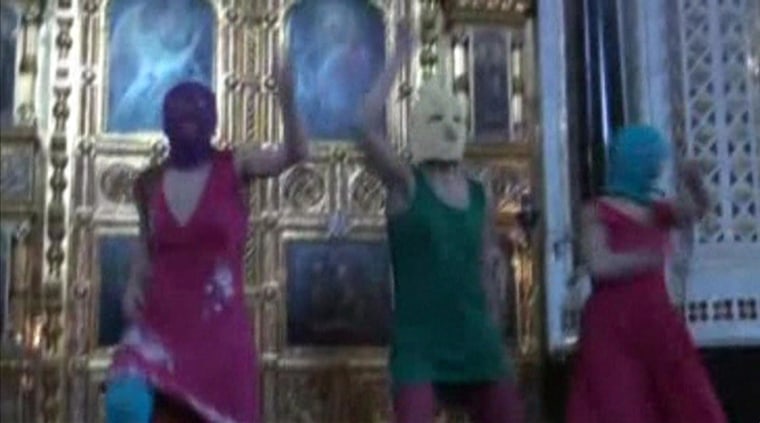 Band members were sentenced to jail time after a trial that made news headlines around the world.
As with the Bolotnaya and Pussy Riot cases, Russian state media and most politicians have portrayed recent demonstrators as a fifth column – or the enemies from within. Meanwhile, their cause has been taken up by international rights groups, such as Human Rights Watch.
So it isn't surprising that fear stalks even the most dedicated anti-Putin demonstrators these. Varvara Pakhomenko, who works for a nongovernmental organization in Moscow, said that for the first time ever she's afraid to attend demonstrations.
"There is a mass hysteria in the air right now," she said. "There is a lot of public aggression which can turn into violence."