When President Barack Obama on Monday imposed the most comprehensive set of sanctions against Russia since the Cold War, he designated seven Russian officials as targets for having their bank accounts and property frozen for supporting Crimea's vote to secede from Ukraine.
All are close associates of Russian President Vladimir Putin, but many are unknown to Americans.
The Treasury Department also targeted the personal wealth of four pro-Russian Ukrainians for their roles in the Crimean peninsula breakaway under a March 6 order.
Obama said the sanctions aimed to "increase the cost" to Russia, and he warned that more people could face financial punishment if Moscow continues to "interfere in Ukraine" — although he did offer some hope of a diplomatic resolution to the crisis.
The moves weren't without detractors. Sen. John McCain, R-Ariz., blasted the sanctions for their "timidity," asserting the Obama administration needs a "fundamental reassessment" of the relationship with Russian President Vladimir Putin.
Here is a look at the 11 officials targeted by U.S. sanctions (Note: The European Union has separately sanctioned 21 Russians and Ukrainians):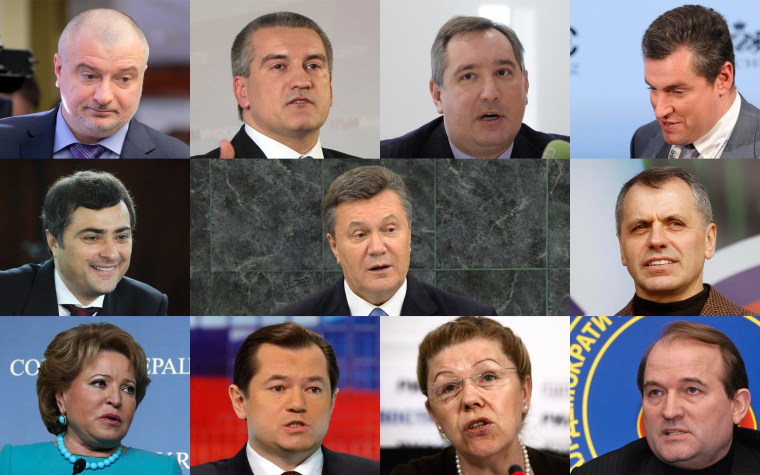 Valentina Matviyenko, Speaker of Russian Upper House of Parliament
Matviyenko, 64, is the chairwoman of the Federation Council, Russia's upper house of parliament.
Named one of Forbes' 100 Most Powerful Women as far back as 2008 and known for her flaming red hair and outrageous clothes — including a natty zebra-striped suit she's worn to public events — she is a close friend and top ideological aide to Putin.
Matviyenko emerged from a meeting earlier this month declaring it was impossible that Russia would invade Crimea — just days before Russian troops stealthily streamed into the peninsula and seized control in a bloodless invasion, according to a New York Times account.
Dmitry Rogozin, Deputy Prime Minister of Russian Federation
Rogozin, 50, the overseer of Russia's powerful defense industry, is deputy prime minister of the Russian Federation, the central government. He has clashed with the United States on arms deliveries to various countries, including Syria, Iran and Libya.
A close Putin friend, Rogozin appeared to mock Obama and the sanctions on Twitter Monday:
"Comrade @BarackObama, what should do those who have neither accounts nor property abroad? Or U didn't think about it?" Rogozin tweeted. "I think some prankster prepared the draft of this Act of the U.S. President."
Vladislav Surkov, Aide to Russian President Putin
Surkov, 49, is a former Soviet artillery soldier and public relations executive who is widely seen as Putin's main propagandist and an ideologue, according to a Moscow Times profile. He is considered the mastermind behind the concept of "sovereign democracy," a phrase used to describe modern Russian politics that some critics have called meaningless.
Sergey Glazyev, Adviser to Putin
Glazyev, 53, the Kremlin's top economic adviser, also advises Putin on Ukraine. He was quoted by Radio Free Europe as saying Russia could reduce its economic dependency on the United States "to zero" if sanctions were imposed. He also said Moscow might be forced to drop the dollar as a reserve currency and refuse to pay off loans to U.S. banks.
As the Ukranian crisis unfolded, Glazyev accused the United States of funding and arming protesters in Kiev and seemed to threaten Russian intervention.
Glazyev also led the charge against Ukrainian ties to the EU. He said Russian trade sanctions on Ukraine last summer were a warning against the "suicidal step" of an agreement with the EU, the Economist reported.
Leonid Slutsky, Member of Russian Parliament
Slutsky, 46, is a deputy in the State Duma, where he is chairman of a committee on Eurasian Integration, and Relations with Compatriots, the White House said.
Considered an expert on the former Soviet republics as well as the restive Chechen region, Slutsky is deeply engaged in Russian foreign policy. He frequently travels abroad to speak on Russian foreign affairs.
Two weeks before the referendum on secession in Crimea, Slutsky told reporters for the state news service the situation in Ukraine consolidated the Russian society. "Everyone is for protecting ours in Ukraine," he told Itar-Tass news agency.
Andrei Klishas, Member of Russian Parliament
A member of the Federation Council, Klishas, 41, authored a bill that would allow Moscow to seize assets of Western companies and individuals in the event sanctions were imposed, CNBC reported.
Klishas said after the sanctions he was "quite satisfied" with the company of people he found himself in, according to Kremlin-controlled Russia Today.
Yelena Mizulina, Deputy in State Duma
Mizulina, 59, is a deputy in the State Duma, the lower house of parliament. A conservative and ardent Putin supporter, she is considered his morality crusader, according to an Associated Press profile. She spearheaded efforts to curb gay rights, punish online cursing and tax divorce. She also took a leading role in legislation banning adoptions by Americans.
Mizulina, in a statement, said she has no assets outside Russia.
"The decision is puzzling — although we've expected sanctions — because I don't have any accounts or real estate abroad, nor do my family members live abroad.... Why was particularly I included?"
Sergey Aksyonov, Disputed Prime Minister of Crimea
Aksyonov, 41, whom Time called Putin's "Man in Crimea," is head of the Russian Unity party in Crimea.
According to the White House, he is being designated for sanctions for "threatening the peace, security, stability, sovereignty, or territorial integrity of Ukraine, and for undermining Ukraine's democratic institutions and processes."
Nicknamed "The Goblin," Aksyonov guides a paramilitary force in Crimea and whose installation as prime minister, called illegal by the West, was reportedly fixed in what regional lawmaker Leonid Pilunsky told Reuters was "a great spectacle, a tragic spectacle,"
Vladimir Konstantinov, Speaker of Crimean Parliament
Newly declared speaker of the pro-Russia Crimea, parliament, which on March 11 declared independence in a secretive vote, Konstantinov, 59, has backed Russia's Gazprom's controlling Crimea's oil and gas resources and said Ukrainian military units should be disbanded.
The White House said he is being sanctioned for "threatening the peace, security, stability, sovereignty, or territorial integrity of Ukraine, and for undermining Ukraine's democratic institutions and processes."
Viktor Yanukovych, Former Ukrainian President
Pro-Russian Yanukovych, 63, was ousted after deadly attacks on pro-Western street protests in Kiev last month and fled to Russia. A political crisis ensued that led to Russia's sending troops into Crimea. Revelations about his life of luxury shocked Ukrainians. He is now wanted for mass murder in Ukraine after the clashes between police and protesters, which killed about 100 people.
According to the White House, Yanukovych is being sanctioned "for threatening the peace, security, stability, sovereignty, or territorial integrity of Ukraine, and for undermining Ukraine's democratic institutions and processes." After abandoning Kiev and ultimately fleeing to Russia, Yanukovych called upon Putin to send Russian troops into Ukraine.
Viktor Medvedchuk, Former Ukrainian President's Chief of Staff
Medvedchuk, 59, is a Russian-born lawyer who chaired the Ukrainian Choice group advocating closer economic ties with Russia. Putin is the godfather to Medvedchuk's daughter Daria, Reuters reported. The godmother is Svetlana Medvedeva, the wife of Russian Prime Minister Dmitry Medvedev, a former president.
Polly DeFrank of NBC News as well as The Associated Press and Reuters contributed to this report.