Pro-Russian separatists in eastern Ukraine said Friday they would ignore an agreement reached by the U.S. and Russia telling them to leave occupied government buildings.
President Barack Obama said Thursday he was skeptical "given past performance" that Moscow would follow through on the deal, which called on the armed groups to leave buildings they have occupied across the region since last week.
The separatists' spokesman in the city of Donetsk, Alexander Gnezdilov, told the BBC that they would not leave their position until the "illegal" Western-backed government in the capital Kiev stood down.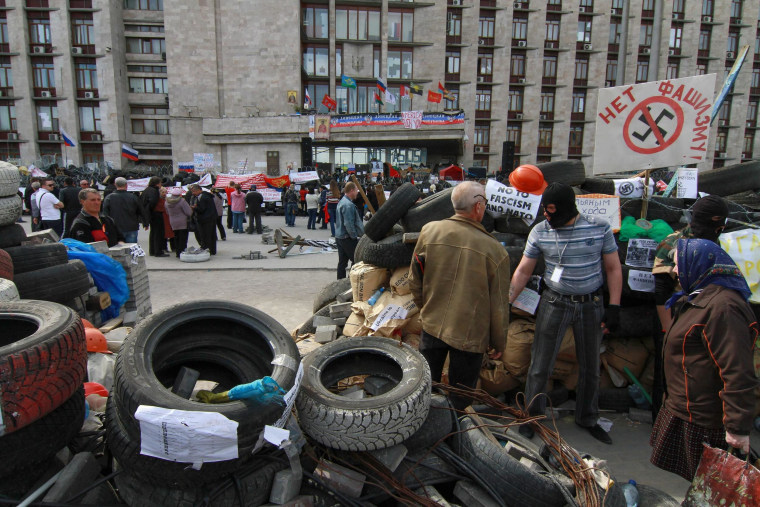 Another protester told the British network that they would not leave until pro-European demonstrators still camped out in Kiev's Independence Square packed up first.
Thursday's deal was reached after a meeting in Geneva between representatives from the U.S., Europe, Russia, and Ukraine. It called on armed groups to disband and occupied buildings to be vacated.
Obama said he was ready to impose more sanctions on Russia if the situation did not improve.
The protesters in Russian-influenced eastern Ukraine are calling for a move toward Moscow because they believe the Kiev government instated after the ouster of President Viktor Yanukovych is too European-leaning and will not represent their views.
The demonstrators are calling for a referendum, like the one in Crimea in March, to come under Russian rule.
The U.S. and the West claim Russia was backing up the protesters in Crimea and eastern Ukraine. President Vladimir Putin initially involvement in both regions, but on Thursday admitted his troops played a part in Crimea.
- Alexander Smith