Vowing that "we are undefeatable — we cannot be defeated," Ukrainian opposition leader Yulia Tymoshenko dramatically told thousands of protesters that "you have the right to rule your own country."
"This is your achievement," Tymoshenko declared from a wheelchair in Kiev's Independence Square, where she rushed to as soon as she was released from prison in the northeastern city of Kharkiv, where she had been treated for a bad back while serving her seven-year prison sentence on corruption charges.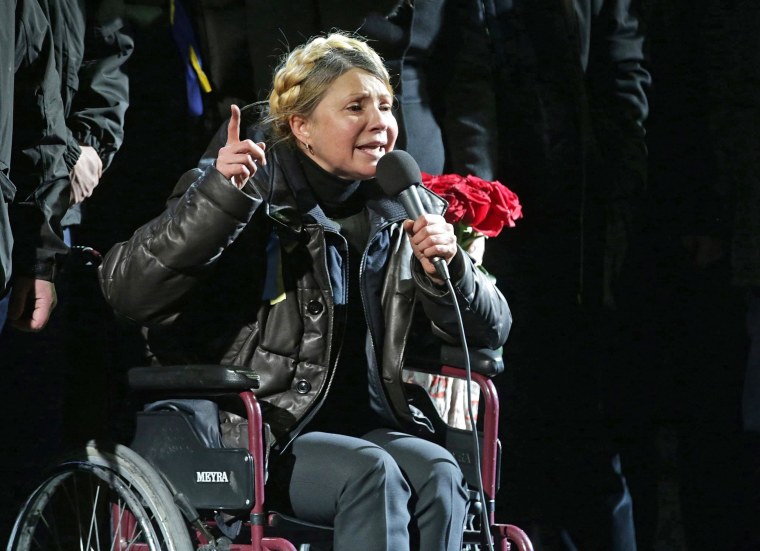 Speaking forcefully and emotionally, Tymoshenko warned that Ukraine couldn't be fully free until "everyone bears a responsibility for what they have done" — a clear reference to President Viktor Yanukovich.
"When snipers were shooting in hearts of our guys, those bullets will always hurt," she said to cheers. "If we don't prosecute, we should be ashamed."
Tymoshenko apologized for all Ukrainian politicians — including herself after her two controversial terms as prime minister.
"You know that politics is often theater," she said. "I will guarantee that you will know what is happening backstage. And me, as one of the politicians, I want to really beg your forgiveness.
"We have an open way to build Ukraine the way you want it, but it is important that you don't have a lot of trust in officials and politicians," she said. "Therefore, you must stay here until you see the president and his cabinet and minister are not composed of [immoral] politicians.
"You have the right to rule your own country. I want to guarantee that nobody will betray you."