The crisis in Ukraine has recently unfurled at a breakneck pace, swinging wildly between disorder and diplomacy.
What started as small protests became a nationwide movement — and then a violent crackdown. Bloodshed gave way to bureaucracy in central Kiev.
And that was all before the Russian takeover of the Crimean peninsula — a somewhat surprising incursion that has set off a dizzying volley of threats and counter-threats that calls to mind the hottest moments of the Cold War.
The eyes of the world are now fixed squarely on Russian President Vladimir Putin as he faces mounting pressure from Western powers to loosen his grip on Crimea. Analysts say Putin's endgame remains a giant question mark.
As the Kremlin plots its next move and the White House ratchets up the heat, here's a primer on where things stand in Ukraine:
Who's in charge in Ukraine?
President Viktor Yanukovych fled his residence near capital city Kiev on Feb. 22 after months of deadly protests and a European-brokered deal with opposition leaders handing many of his key powers over to parliament.
Alexander Turchynov — the speaker of the parliament and a close ally of formerly-jailed opposition leader Yulia Tymoshenko — was named acting president Feb. 23 after Yanukovych's ouster.
Arseniy Yatsenyuk, one of the firebrands of the anti-government movement, was named acting prime minister.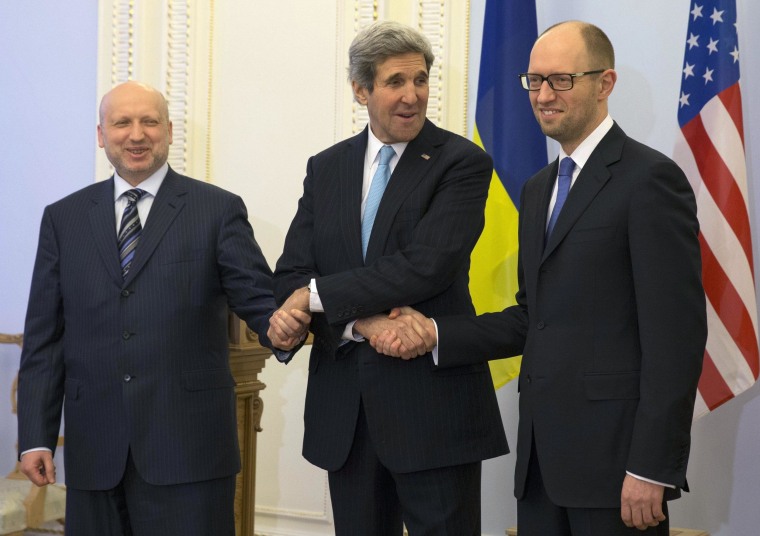 "The new government has been in office less than two weeks. They're basically starting from scratch," said Andrew Weiss, a former Russia expert for the Clinton administration who is now vice president for studies in the Russia and Eurasia Program of the Carnegie Endowment for International Peace. He is also an analyst for NBC News.
Turchynov and Yatsenyuk may have been swept into office as crusading reformers, but they now have scant policy-making latitude, according to Timothy Frye, the director of the Harriman Institute at Columbia University and an expert on post-Soviet foreign policy.
"Their ability to make bureaucracy function is pretty limited," Frye said, adding that the power of the state government has weakened considerably. "They're primarily caretakers until presidential elections can be held" in May.
Who will run in the elections?
The two men heading up the provisional government are not expected to be contenders for the top political post in the early summer, analysts say.
Yatsenyuk is widely considered more of a "technocrat" than a career pol, according to Frye. Weiss said he wasn't "sure Yatsenyuk has the widespread popularity to be a presidential candidate."
Frye is also skeptical of Turchynov's prospects in a popular contest. "He just doesn't have the charisma. He's not seen as somebody who's going to be a strong candidate."
If the two acting leaders bow out of the May election, they'll leave an opening for Vitali Klitschko — the 6-foot-7 former heavyweight boxing champ with a Ph.D and three kids.
Klitschko — also known as "Dr. Ironfist" from his boxing days — was one of the most prominent faces of the anti-government movement, although in recent days he has been less visible. But that may be part of his political strategy, according to Frye.
"Klitschko is looking out for himself and has distanced himself from the provisional government with an eye on the presidency," Frye said.
The hulking heavyweight said on his website last week that he wanted to throw his hat in the ring.
Where are the Russian troops and what are they doing?
Thousands of Russian troops — 6,000 to 16,000 or more, according to various reports — entered Crimea over the weekend and have surrounded military and civilian installations.
Pro-Russian troops on Tuesday reportedly fired warning shots at unarmed Ukrainian soldiers protesting at the Belbek air base.
The central players in the Crimea drama have all acknowledged that the troops are there — they just can't agree on the exact reason.
In his first public remarks since Yanukovych fled Kiev, Putin said Tuesday that the troops were stationed on the largely Russian-speaking Crimean peninsula — the site of Russia's Black Sea fleet — as part of a "humanitarian mission."
Putin denied that Russian troops had taken over Crimea — and also charged the Obama administration with meddling in Ukraine "from across the pond in America as if they were sitting in a laboratory and running experiments on rats, without any understanding of the consequences."
But later Wednesday, Secretary of State John Kerry expressed deep skepticism about Putin's claim. Responding to a question from NBC News' Andrea Mitchell in Kiev, Kerry said: "He really denied there were troops in Crimea?"
Kerry framed the troops' presence on the peninsula in starkly different terms, saying: "It is not appropriate to invade a country, and at the end of a barrel of a gun dictate what you are trying to achieve."
He added: "That is not 21st-century, G-8, major nation behavior."
Putin said Tuesday that Moscow does not want "to fight the Ukrainian people" — but he added that it reserves the right to use force.
What's the Obama administration's next move?
The U.S. has already suspended military engagement with Russia. It has also pulled out of prep meeting for the G-8 summit in Sochi and is threatening to boot Russia from the G-8 altogether. Putin, for his part, seems unfazed.
Tough economic sanctions are probably the next items on the U.S. agenda, according to William Pomeranz, deputy director for the Kennan Institute, a Russia-focused group at the Woodrow Wilson Center, a nonpartisan policy organization in Washington.
"I think there will be a strong, growing demand in Congress and potentially across the U.S. itself for heightened sanctions against Russia," Pomeranz said. "Russia is one of the few issues that brings out bipartisan support. We're going to see growing momentum for sanctions."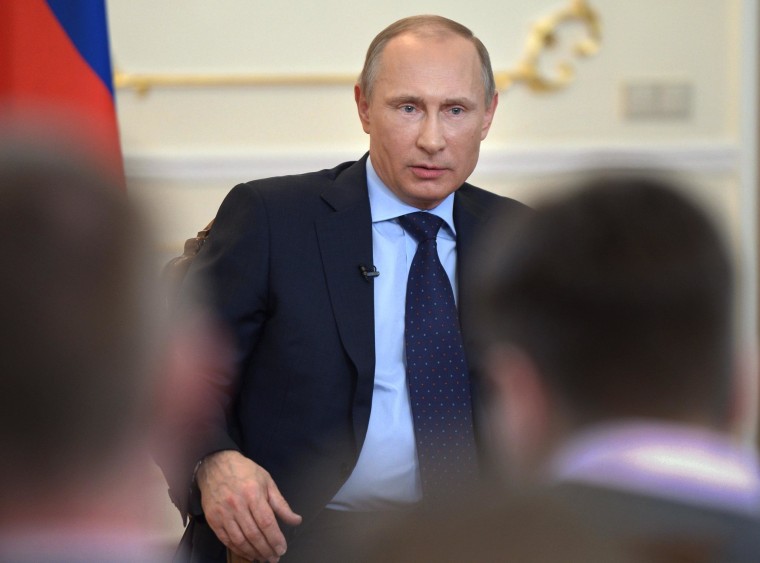 House Foreign Affairs Committee Chairman Ed Royce on Tuesday called for "crippling sanctions on Russian high-ranking officials, state-owned banks and commercial enterprises, and key individuals behind the Russian intervention."
According to The Associated Press, the U.S. on Tuesday was already preparing sanctions against Russia unless Moscow deescalated the crisis and called its troops back to their barracks on the peninsula.
What will Ukraine need to rebound?
In Kiev on Tuesday, Kerry paid tribute to those who died in the bloody protests last month — and pledged $1 billion in a loan guarantee program to Ukraine as the country tries to stave off bankruptcy.
"In addition to making sure the election takes place on time, Ukraine is going to need significant financial aid," Pomeranz said. "It will likely come from the European Union and the IMF (International Monetary Fund) and international financial institutions."
Yatsenyuk on Tuesday called on Western powers to dole out political and economic support as the Kiev stock market plummeted a record 12 percent and the Ukrainian national currency dropped to new lows against the dollar and euro.
Weiss said that the European Union — perhaps fronted by Germany and Chancellor Angela Merkel — will be a "key actor" in the coming days and weeks. And the IMF will "probably provide some sort of 'band-aid' support that carries Ukraine to the May elections."
The Associated Press contributed to this report.