MOSCOW — Ukraine's acting president has re-instated the military draft to address the deteriorating security situation and threats from Russia along the countries' border.
Acting President Oleksandr Turchynov issued a decree on the presidential website Thursday saying Ukraine will conduct a draft for active military service in Ukrainian Armed Forces in order to "to increase the state defense potential."
The decree says: "Ukrainian male citizens who are physically qualified for military service, over 18 years old and older, but who have not reached the age of 25, and who have no right for exemption from military service" will be conscripted.
The statement says such measures are being taken because of the "deteriorating situation in the east and south of Ukraine … activities of illegally formed armed pro-Russian groups, the seizure and blockade of the state administration buildings, military administration facilities, military bases…" pose a threat to Ukraine's territorial integrity.
The decree also mentions "interference of the Russian Federation into the interior affairs of Ukraine" as one of the reasons for the call-up.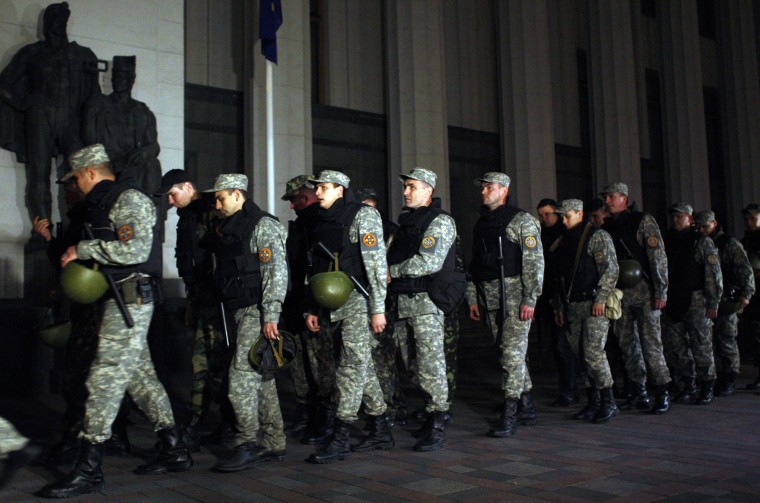 Turchynov admitted Wednesday that Ukraine's police and security officials had essentially lost control of the east of the country.
"I want to say, honestly, that today, the operational units are not capable of taking control of the situation in two regions," he told a meeting of regional governors, according to Reuters.
"Local law enforcement units are helpless, and some from those units either support or cooperate with the terrorists."
Ukrainian authorities had decided late last year to stop the obligatory military draft under a law introduced by then President Viktor Yanukovych. The now ousted leader said he wanted to create a more "professional army" and replace the conscripts with contract servicemen.
— Maria Stromova