The face of the opposition in the Ukraine is a heavyweight boxing champ with a Ph.D who has lost only two fights but is now locked in the battle of his life.
Vitali Klitschko, a 6-foot-7 father of three, is known as Dr. Ironfist for his achievements in the ring and the academic arena.
Once feared for a devastating left jab, the 42-year-old is now landing political blows as head of the Ukranian Democratic Alliance for Reform and the protests that have erupted into deadly clashes in Kiev.
At least one old opponent is in his corner. Lennox Lewis, who defeated Klitschko in a controversial 2003 match, tweeted his support on Wednesday.
Klitschko's new rival is Ukranian President Viktor Yanukovich — and he demanded Yanukovich resign on Wednesday, saying he's responsible for "murder and terror against peaceful civilians."
"Blood is shed on the streets of Kiev," Klitschko said in a video address. "The main reason for this is actions of the authorities. Therefore, people today demand Yanukovich and his government to resign.
"The sooner this happens, the less blood is shed, the faster Ukraine will move to a civilized future for which people has taken to the streets."
Earlier, he had appeared in Independence Square — after fierce fighting left 26 people, including 10 police officers, dead — to urge demonstrators to hold their ground.
"We will not go anywhere from here," he told the crowd. "This is an island of freedom and we will defend it."
The son of a Soviet pilot and former colonel who launched his boxing career in 1995, Klitschko got involved in politics during an injury-forced temporary retirement. In 2005, he made a bid to become mayor of Kiev — the first of three failed runs for the seat.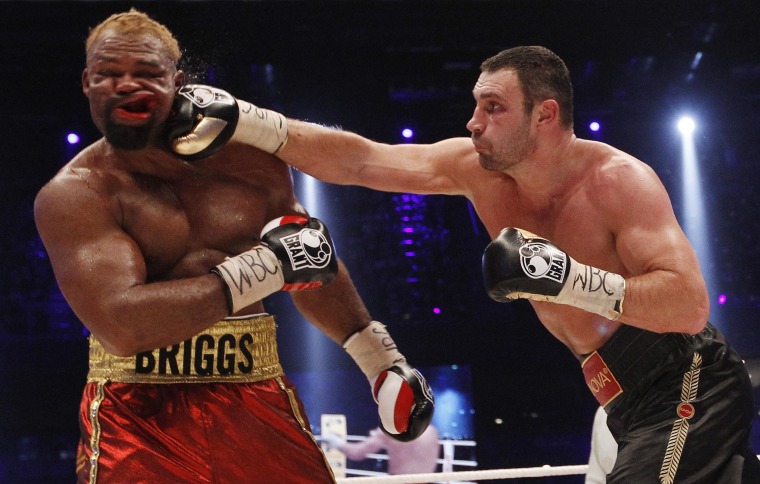 He was elected to the Ukranian parliament in 2012, just a few months after his last fight — his 45th victory.
His profile within the opposition has steadily risen since protests broke out in November, when Yanukovich ditched a deal with the European Union and struck a loan scheme with Russia to float its ailing economy.
But U.S. diplomats, at least, may be concerned that the pugilist-turned-pol doesn't have the chops for a major government role if the opposition prevails.
In a leaked phone call — which drew attention because Assistant Secretary of State Victoria Nuland was taped saying "F--- the EU" — Nuland reportedly also said she did not think he should go into the government.
"I don't think it's a good idea," she was quoted as saying on the tape, adding that another opposition figure had more experience.
Klitschko's populist appeal is undeniable, however.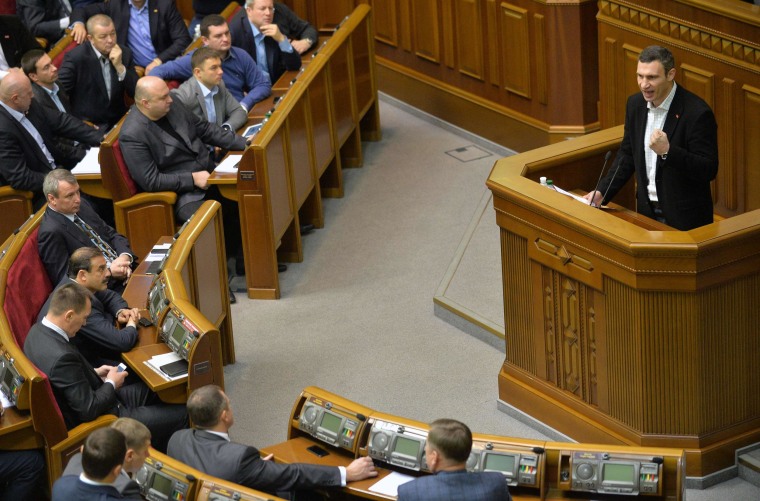 "I'd stand behind Klitschko," said Grigory Parkhomenko, a 54-year-old retired factory worker, told Reuters in December. "He's earned his fortune with his hands, so he doesn't need to steal from the people."
British boxing promoter Frank Warren, who arranged three world title fights with Klitschko, described the puncher as "deep-thinking" and more "intense" than brother Wladimir, who is also a champion fighter and is engaged to actress Hayden Panettiere.
Still he could not have imagined he would be at the center of a crisis that has drawn the world's attention.
"I knew he stood for mayor of Kiev a few years ago, but despite that I am quite shocked that he is doing what he is doing at the moment and very much in the thick of it all," Warren said. "He can look after himself, but when you hear there are people being shot, it's a very sad state of affairs."
British WBO and WBA international heavyweight champion Dereck Chisora had his license taken away for a year after he slapped Klitschko before they fought for the WBC Heavyweight Championship in 2012. But today he says he has only respect for his former rival.
"As a man he's a very cool guy," Chisora said. "He doesn't hold a grudge either. He's a very intelligent guy and a very genuine person. You wouldn't wish any bad karma on him or anyone else in the Ukraine and I wish him all the best. I hope they can sort it out."