KIEV, Ukraine — Clashes broke out between police and nationalist protesters outside the Ukrainian parliament on Monday after a controversial vote to give greater powers to separatist regions in the east.
Interior Minister Arsen Avakov said one law enforcement officer was killed. About 100 others were injured, according to his ministry.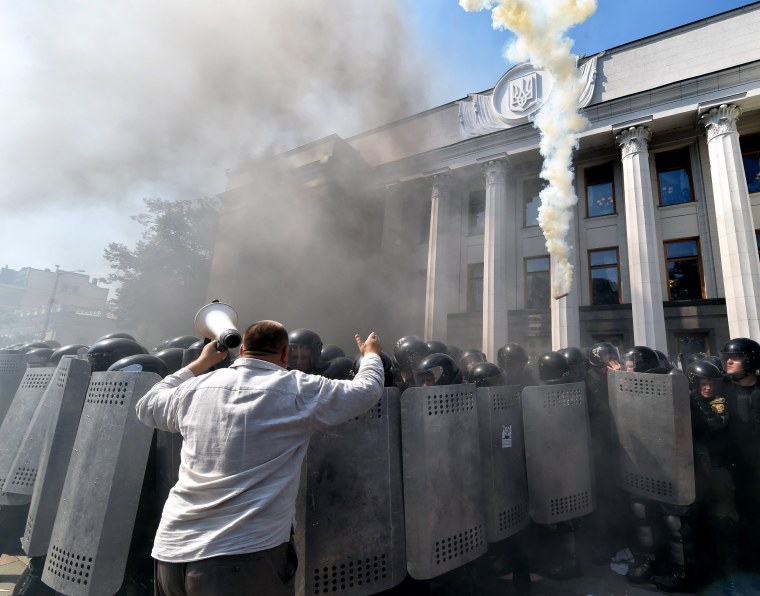 At least some of the officers were injured in the explosion of an object thrown from the crowd of protesters. It was not immediately clear what was thrown, but photographs and video showed it emitting a trail of smoke.
No injuries were immediately reported among the approximately 100 active protesters, most of whom were members of Svoboda, a nationalist party that holds only a handful of seats in parliament.
The decentralization of power was a condition of a truce signed in February aimed at ending the fighting between Ukrainian government troops and Russia-backed separatists that has left more than 6,800 dead. But some Ukrainians oppose changing the constitution, saying that it would threaten the country's sovereignty and independence.
Related: Has Russia's Secret Ukraine Death Toll Been Revealed?
A total of 265 deputies in the 450-seat parliament gave preliminary approval Monday to the changes proposed by Ukrainian President Petro Poroshenko. Three parties that are part of the majority coalition in parliament, however, opposed the constitutional changes.
A final vote on the constitutional changes is to be held during parliament's fall session, which begins on Tuesday. No specific date has yet been set.