KIEV, Ukraine -- President Viktor Yanukovych signed a deal with Ukraine's main opposition leaders on Friday brokered to end the deadly violence that put the country on the brink of civil war.
He agreed to early elections and to surrender some of his powers after 77 people were killed as a geopolitical tug-of-war over whether Ukraine should embrace the West or Russia turned violent this week. (The agreement can be read in full by clicking here.)
Yanukovych said he offered the concessions to "restore peace and to avoid further victims of the stand-off" and addressed his statement to "compatriots."
The deal states that:
Within 48 hours Ukraine must revert to its 2004 constitution, meaning some of Yanukovych's powers will be given to the parliament. This was passed by lawmakers shortly after the deal was finalized.
A coalition government will be formed in the next 10 days and presidential elections will be brought forward from March 2015 until no later than December.
Illegal weapons must be handed in and there will also be an investigation into the deadly violence that has dominated Kiev this week.
The agreement was signed by the three main opposition leaders, including former boxing star Vitali Klitschko. However, it was almost immediately rejected by the extremist Right Sector party, which has been blamed for much of the civilian violence since protests in Kiev's Independence Square began in November.
"We are inclined to consider Yanukovych's statement as another whitewash," Right Sector said in a statement. "National revolution continues."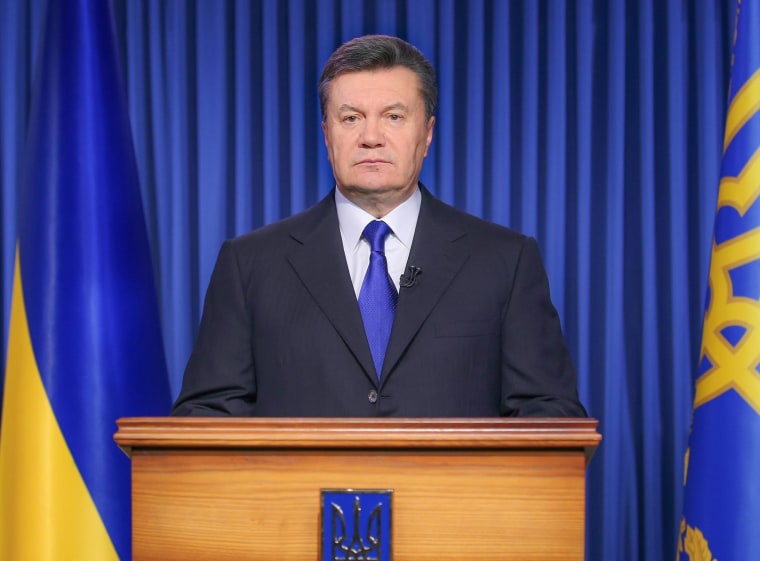 The agreement came after overnight negotiations with opposition leaders, European Union ministers and Russia.
But photographs of the document showed that the signature of Vladimir Lukin, special envoy of Russian President Vladimir Putin, was missing. Reuters confirmed that Lukin did not sign the deal and said there was no immediate explanation for his absence.
One of the European foreign ministers who helped broker the deal, Poland's Radosław Sikorski, said the agreement was a "good compromise."
Sikorski was earlier filmed by Britain's ITV News telling an opposition leader: "If you don't support this [deal] you'll have martial law, you'll have the army. You will all be dead."
A Reuters journalist who attended the signing said Yanukovich did not smile during a ceremony that lasted several minutes.
Earlier, opposition leaders traveled from the parliament building to the protest camp at Independence Square to discuss the situation with demonstrators.
Although the large crowd remained peaceful many protesters spent much of Friday "reinforcing barricades," according to GlobalPost journalist Christopher Miller.
Their support was reinforced by dozens of officers from the western city of Lviv who arrived in Kiev and declared themselves on the side of the opposition. Lviv itself was the scene of protest on Thursday as hundreds of demonstrators stormed police stations and interior ministry buildings.
The interior ministry also said that some protesters had fired at police in a street near Independence Square. The report could not be verified by NBC News.
Inside the parliament the mood among lawmakers was also tense, with a scuffle in Thursday's session followed up by a failure by some politicians to observe a minute's silence for the dead on Friday morning.
Thursday saw protesters armed with makeshift riot shields, helmets and Molotov cocktails resume their bloody battle with riot police for control of Independence Square - known as the Maidan.
Parts of the city were turned into an urban battleground with burning barricades and fierce battles resuming between security forces and civilians. Video appeared to show police snipers firing at unarmed protesters.
At least 77 people have been killed this week - including more than 13 police officers - and 577 others were injured. Thursday was Ukraine's bloodiest day since the country emerged from the Soviet Union in 1991.
Protests kicked off in November after Yanukovych shelved an association agreement with the European Union in favor of closer ties with Russia. Russia then announced a $15 billion bailout for Ukraine, whose economy is in tatters.
The demonstrations began peacefully but have increasingly involved extremists — including many aligned with the far right — who have clashed with riot police.
Moscow has branded clashes between anti-government protesters and Ukrainian security forces as an "attempted coup."
Maria Stromova reported from Moscow. Jason Cumming and Alexander Smith reported from London. Alex Furman, Peter Jeary and Albina Kovalyova of NBC News, The Associated Press and Reuters contributed to this report.