Ukraine's president put his army on combat alert Thursday along the country's de-facto borders with Crimea and separatist rebels in the east as a war of words between Russia and Ukraine threatened to heat up the largely frozen conflict over the Black Sea peninsula.
Ukrainian President Petro Poroshenko issued the order after Moscow accused his country of sending in "saboteurs" to carry out attacks in Crimea.
Russia annexed Crimea from Ukraine in March 2014 following a hastily called referendum, a move that sparked fighting between Russia-backed separatists and government forces in eastern Ukraine. The conflict in the east has killed over 9,500 people and is still ongoing.
The Russian intelligence service FSB issued a statement Wednesday, saying one of its officers was killed over the weekend a few kilometers (miles) from the de-facto border between Crimea and Ukraine after a gun battle with a group of "saboteurs" from Ukraine.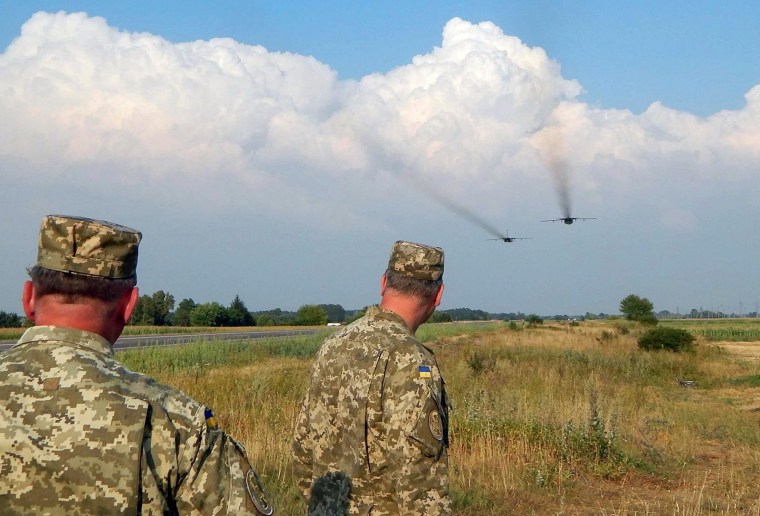 The FSB said the intruders carried an arsenal of bombs, ammunition and mines. They also reported another alleged incident in which two more groups tried to force their way into Crimea early Monday, supported by Ukrainian artillery and armor. One Russian army soldier died in that clash, the FSB said.
Ukraine rejected the claims as "fantasy" and "a provocation."
Russian President Vladimir Putin upped the ante Thursday morning when he directly accused the Ukrainian government of plotting the attacks and called a meeting of the country's top brass to discuss boosting security in Crimea following reports of the foiled attacks.
Within hours, Poroshenko ordered the Ukrainian army to go on combat alert not only on the de-factor border with Crimea but also along the line of contact in eastern Ukraine, where both sides were supposed to have withdrawn heavy weaponry but have been sporadically using them, according to international monitors.
The reports by Russian intelligence about foiled attacks in Crimea suggest the Kremlin is looking for a pretext to up the ante in its largely dormant confrontation with Ukraine. While local media and social media users have largely corroborated reports of a shootout at the Crimean border, there seemed to be no independent accounts of the second incident reported by the FSB, in which the Ukrainian army allegedly used artillery to cover saboteurs who tried to enter Crimea.
"A pretense of an anti-terrorism operation staged by Russia is more plausible than an actual Ukrainian attack on Crimea," prominent Russian journalist Oleg Kashin wrote Thursday on Slon.ru. "Russia deliberately pushes for an escalation and ignores the opportunities it has to preserve the status quo."
Peace talks in the Belarusian capital of Minsk in 2015 helped ease the fighting in eastern Ukraine but did not solve the crisis.