Ukraine accused Russia of sending 6,000 additional troops into Crimea Saturday, deepening a crisis in which both sides accused each other of trying to destabilize the region.
Ukrainian Prime Minister Arseny Yatseniuk urged Moscow to cease what it called provocative actions, echoing a warning by President Barack Obama who said any military intervention following the overthrow of Viktor Yanukovich would have costs for Moscow.
Armed men wearing combat uniform with no identification markings control two airports in Crimea, which hosts Russia's Black Sea Fleet, and have taken over the regional parliament in what Kiev described as an occupation by Moscow's forces.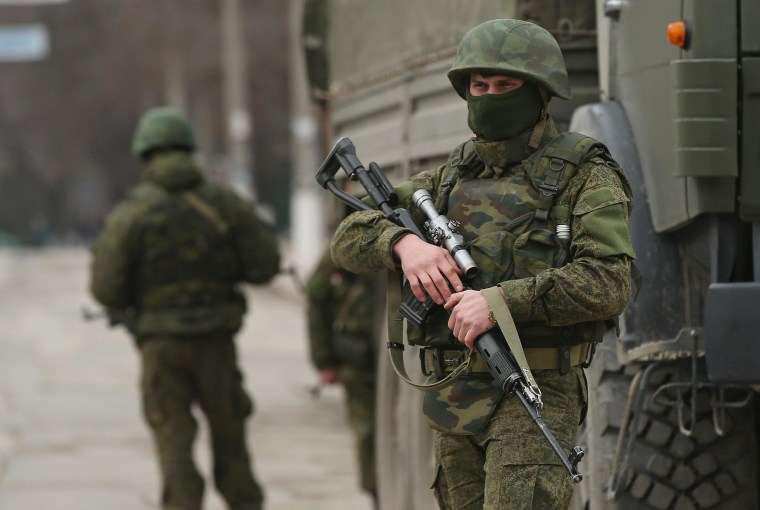 Defense Minister Ihor Tenyukh told a government meeting on Saturday that Russia had "recently" brought 6,000 additional personnel into Ukraine, according to a Reuters report. Several military transport planes and about 10 military helicopters had entered Ukrainian airspace on Friday without permission, he said.
The situation on the ground became even murkier when Russia claimed that Kiev-backed gunmen had attempted to take over the Crimean Interior Ministry. There was no confirmation of such an action from other sources. Russia's foreign ministry said people had been wounded, but gave no details.
"With decisive actions by self-defense groups, the attempt to seize the interior ministry building was averted. This confirms the desire of prominent political circles in Kiev to destabilize the peninsula," it said in a statement Saturday.
Reuters contributed to this report.