Viktor Yanukovych's allies in Moscow reacted bitterly Saturday to his ouster as president of Ukraine, saying the country had been taken over by "terrorists" and "extremists."
Russian President Vladimir Putin has strongly backed Yanukovych, who set off turmoil in the country three months ago by spurning the European Union in favor of closer relations with Russia.
Yanukovych's whereabouts remained unclear Sunday morning. Widespread but unconfirmed reports said he was trying to flee to Russia.
Russia's state-controlled news media covered Saturday's events around the clock, characterizing them as an illegal palace coup led by hooligans, thugs and terrorists.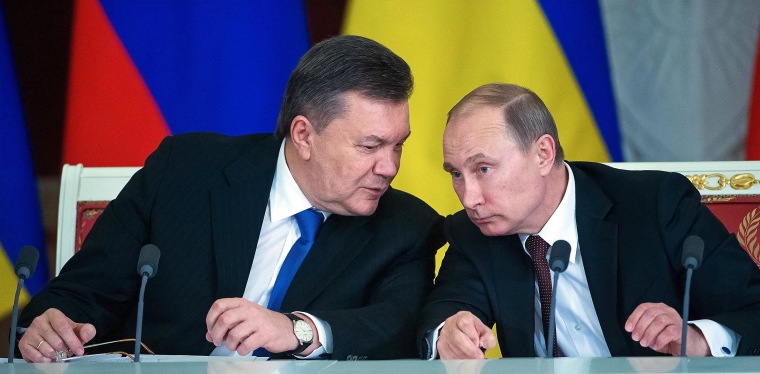 The Foreign Ministry said Foreign Minister Sergei Lavrov called U.S. Secretary of State John Kerry on Saturday to urge the U.S. to "use all resources to prevent illegal activities by radicals and bring the situation back into the constitutional framework."
The U.S. didn't comment on the reported call, but in a statement, the State Department welcomed the release of opposition leader Yulia Tymochenko and said Saturday's events "move us closer" to "constitutional change, a coalition government, and early elections."
But the Russian Foreign Ministry denounced "illegal extremist groups" who it said in a statement "refuse to surrender their weapons and are de facto taking control of Kiev with the connivance of the opposition leaders."
The statement added that Lavrov had also called foreign ministers of Germany, Poland and France, who were part of an agreement signed Friday to try to resolve the crisis peacefully.
Lavrov told his counterparts that "not only did the opposition fail to honor a single one of its obligations, it is putting forward new demands, taking their cue from armed extremists and vandals, whose actions pose a direct threat to the sovereignty and constitutional order of Ukraine," the Foreign Ministry said.
Meanwhile, Mikhail Margelov, head of the foreign policy committee of the upper house of the Russian Parliament, warned that events were spinning out control, saying, "The opposition, let alone the militants, are not the majority of the Ukrainian people."