Ukrainian law enforcement said Saturday it will not investigate the phone bug between two U.S. diplomats when they discussed opposition in the Ukraine, which sparked controversy when one diplomat was heard dropping an expletive about the European Union.
"The Ukrainian Security Service is not conducting any investigation into the matter at this time," Maxim Lenko, a senior investigations official in the Ukrainian State Security Service, said during a news conference in Kiev.
"The Security Service denies that the Ukrainian special service has any relation to the publication of this video material," added Ukraine's Security Service spokeswoman Lada Safonova, according to Interfax Ukraine.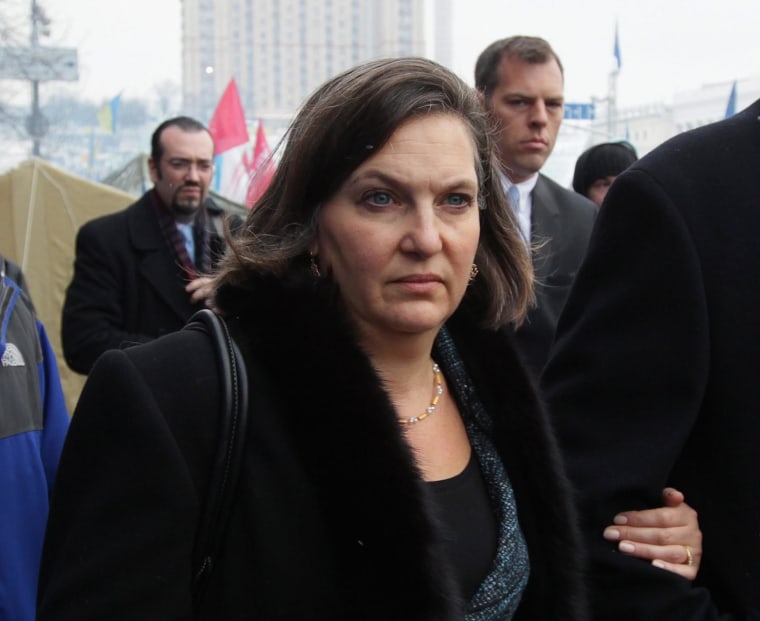 Audio of a fiery phone call was posted on YouTube between U.S. Ambassador to Ukraine Geoffrey Pyatt and top U.S. diplomat Victoria Nuland, the assistant secretary for European and Eurasian Affairs. The Russians then posted a Tweet of the sound bite as Nuland arrived in Kiev to discuss ending the Ukrainian crisis with President Viktor Yanukovich.
U.S. officials concluded that Russian intelligence bugged the call.
Nuland tried to make light of the situation on Friday, calling the tapping "pretty impressive tradecraft."
German Chancellor Angela Merkel, already frustrated with the U.S. after reports that American officials bugged her phone, called Nuland's "F*** the EU" comment "totally unacceptable," her spokeswoman said during a news conference Friday.
Nuland has worked with the Ukraine since widespread protests broke out in the former Soviet republic last November. Nuland said she didn't think the gaffe would affect her efforts to help mitigate the crisis.
Reuters contributed to this report.