Armed men raised Russian flags over government buildings in Crimea Thursday, throwing the Black Sea province firmly into the center of what experts fear could become a deadly international dispute.
The ouster of Ukrainian President Viktor Yanukovych has been accepted across the vast country, but Crimea – home to Russia's Black Sea naval fleet - is so far alone in challenging the new order.
"Crimea is a wild card," explained Alexander Motyl, professor of political science at Rutgers University-Newark. "It's totally different from the rest of Ukraine."
Why is Crimea different from the rest of Ukraine?
Crimea is an autonomous region of Ukraine and the only one to have its own constitution and a separate parliament, based in the capital city of Simferopol.
Most of Crimea's 2 million inhabitants speak Russian, and describe themselves as Russian - even if they hold Ukrainian passports, because Ukraine does not allow dual citizenship. In the last national census in 2001, 58 percent of Crimeans identified themselves as Russian, compared to only 24 percent who identified themselves as Ukrainian and 12 percent who called themselves Crimean Tatars.
Sevastopol, home to Russia's Black Sea naval base, enjoys a further distinction as one of only two cities to have the same administrative status as a region. It is separate from the rest of Crimea - a nod to its special status during the Soviet era – and Russians account for almost three-quarters of its 370,000 inhabitants.
A 2010 deal allows Russia to use Sevastopol as its naval base until 2042, although a new pro-Western Ukraine government might not honor that agreement.
Crimea has a historical resonance with Russia, and Sevastopol is viewed as a hero city for resisting the Nazis during the Second World War. It also remains an icon of Russian imperial power, even after the region was transferred into Ukraine following the collapse of the U.S.S.R. in 1991.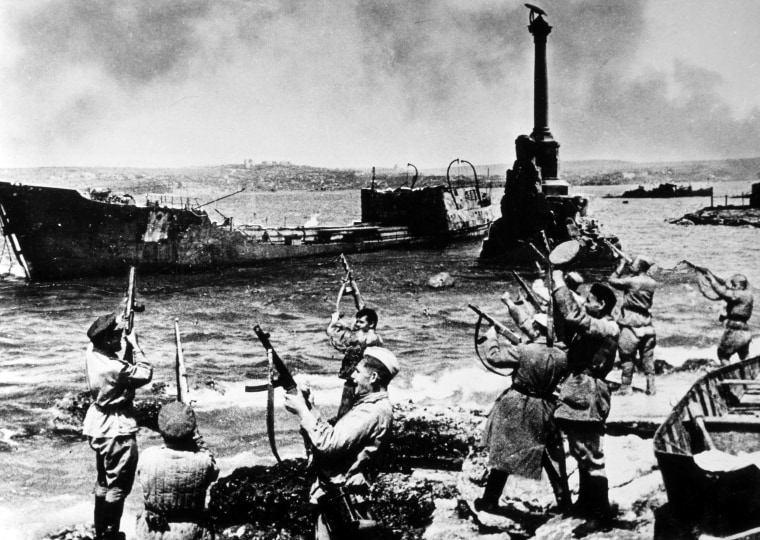 However, the Soviet era was disastrous for Crimea's ethnic Tatars, who were deported en masse to central Asia by Stalin. Many only returned after 1991. Tatars might not support rule from Kiev, but they certainly would not choose rule from Moscow.
"Ukrainian nationalists and Crimean nationalists have the same enemy: Russia," 52-year-old Ibazir Ilyasov told Canada's Globe and Mail newspaper.
This complex ethnic picture means that although Crimea is the most likely candidate for separation from Kiev, any power transfer is likely to become a flashpoint.
Even before Yanukovych was forced to flee Kiev last week, there were rallies in Crimea by ethnic Russians worried that they had lost an ally who would protect them from pro-European Ukrainians.
However, most analysts agree that any future separation of Crimea would not necessarily undermine the rest of Ukraine.
"Crimea is a different matter from the rest of Ukraine," said Andy Hunder, director of the Ukrainian Institute in London. "The other eastern provinces in Ukraine have already ruled out separation."
Will Russia invade Crimea? Could it become the next Kosovo?
Russian President Vladimir Putin has previously ignored calls by Russians in Crimea to reclaim the region, so the timing of Moscow's latest chest-beating has aroused suspicion.
Many believe Russia is privately encouraging the separatist demonstrators in order to protect its role in shaping Ukraine's future. But while Moscow is undoubtedly keen to protect its interests, analysts say Putin would be taking a big risk if Russia intervened militarily in the region.
Since Yanukovych's downfall, all eyes have been on Putin, who ordered the invasion of neighboring Georgia in 2008 to protect two self-declared independent regions with many ethnic Russians and others holding Russian passports, and then recognized the regions as independent states.
There are no parallels with the Kosovo crisis – which led to the 1999 U.S.-led bombing of Serbia and Kosovo - according to Michael Cecire, associate scholar at the Philadelphia-based Foreign Policy Research Institute.
"Russian exaggerations notwithstanding, there is no evidence of systemic majority violence against Crimeans as was witnessed [against Albanians] in the Balkans," he said.
"Intervening in Ukraine would be on an order of magnitude far beyond that of Serbia-Kosovo. That said, rightly or wrongly, there's no doubt that Kosovo can be utilized by Moscow as a justifying precedent for an intervention."
Secretary of State John Kerry has warned Moscow that "any kind of military intervention that would violate the sovereign territorial integrity of Ukraine would be a huge - a grave mistake."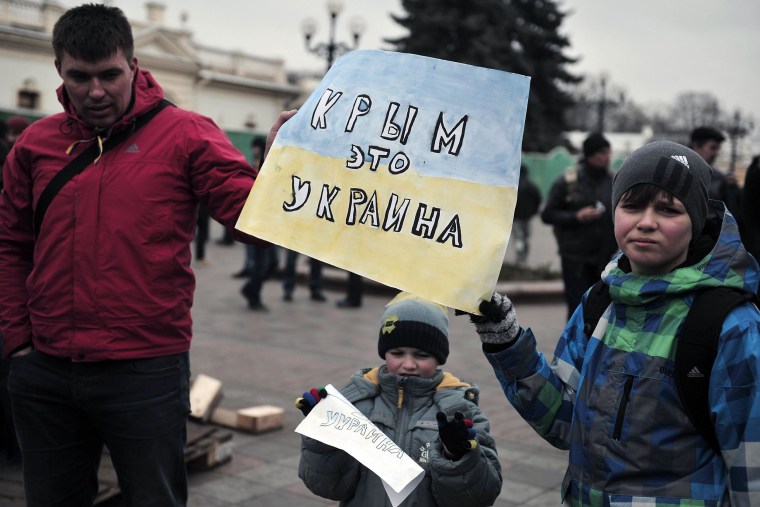 A 'dangerous game'
A peaceful resolution will require much restraint. Fresh elections for Ukraine are not due until May 25, and Russia has already called for them to be postponed.
Rumors that protesters from Kiev's barricades might be on their way to put down the Crimean revolt have prompted some Crimeans to create informal self-defense units.
"I think we will first see Russia issuing lots of Russian passports, and a ceremonial burning of Ukrainian passports," said Hunder, from the Ukrainian Institute in London. "After that, Russia could move in on the pretext of protecting Russians."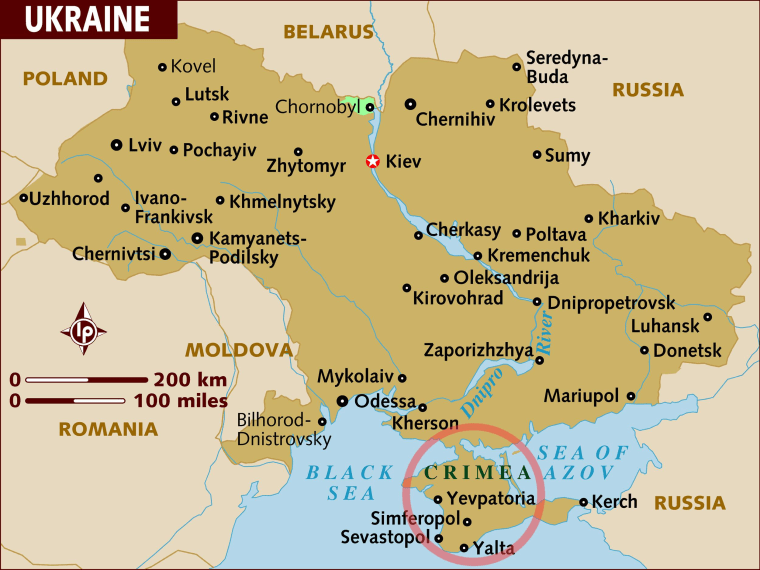 But Lilit Gevorgyan, analyst with IHS Global Insight, argued that Russia has plenty of compelling reasons not to get involved.
"Russia cannot afford economically to launch into destabilizing Ukraine, especially when it still depends on Ukraine for its energy market access to Europe," said Gevorgyan. "Moscow could be dragged into this, but if Russia could afford to get involved it probably would have done so by now."
For now, Polish Foreign Minister Radoslaw Sikorski called the seizure of government buildings in Crimea a "very dangerous game."
"This is a drastic step. And I'm warning those who did this, and those who allowed them to do this, because this is how regional conflicts begin," he told reporters.
Others believe all sides will find a fix, despite the fierce rhetoric.
"The West has made it clear to Putin that secession is unacceptable, and Putin supposedly told Kerry he agrees," said Rutgers' Motyl. "I'm guessing that, as in 1993-1994 when Crimea [last] declared independence, they'll figure something out...unless Putin really is bonkers."
Reuters contributed to this report.