DONETSK, Ukraine -- One month after protesters toppled Ukraine's pro-Moscow government, this country's rural eastern border is the site of a Cold War-style standoff.
Ukrainians have dug a trench along their side of the border with Russia that's supposed to stop Russian troops and tanks from advancing into Eastern Ukraine. A local official, worried the border was unprotected, paid for the trench with his own money.
But the trench, which is just a few feet wide and has several sizable gaps, is unlikely to stop, or even slow, a Russian advance.
U.S. military officials told NBC's Jim Miklaszewski that as many as 20,000 Russian troops have amassed along the Ukrainian border. Officials say many of them come from elite units, backed by heavy armor and attack helicopters.
"I denounce the aggression against my country."
On the Ukrainian side of the border, near the the village of Andriivka, around 200 Ukrainian paratroopers dug foxholes using shovels in a muddy field and put up a handful of canvas tents. Their families brought them food in plastic bags.
The soldiers aren't universally welcomed. On a cold afternoon this week, a handful of burly men shouted at the soldiers, saying the border region should be absorbed into Russia, like Crimea.
They stood nose-to-nose with members of a pro-Ukraine volunteer group, who'd also come to the base to bring food and sleeping bags to the paratroopers. The troops watched as the groups argued noisily, but did not intervene.
One pro-Ukraine volunteer told NBC News he wanted to ensure that military vehicles were able to move freely, without being blocked by pro-Russian militias who now regularly harass Ukrainian troops in the east.
"I denounce the aggression against my country," the volunteer, Aleksander Romanyuk, a local city lawmaker, said.
North of the city of Donetsk, a pro-Russian militia recently surrounded the gates of a Ukrainian military storage facility, blocking trucks from delivering ammunition to Kiev.
Fireworks in Moscow
The standoff on the border is part of a broader tug-of-war for Ukraine.
On Friday, Russian President Vladimir Putin formalized Russia's annexation of Crimea. It marked the first time Moscow has expanded its borders since World War II. Moscow's sky erupted in fireworks.
The move triggered another round of stark warnings and financial sanctions. The European Union joined Washington in freezing the assets of several of Putin's closest advisers.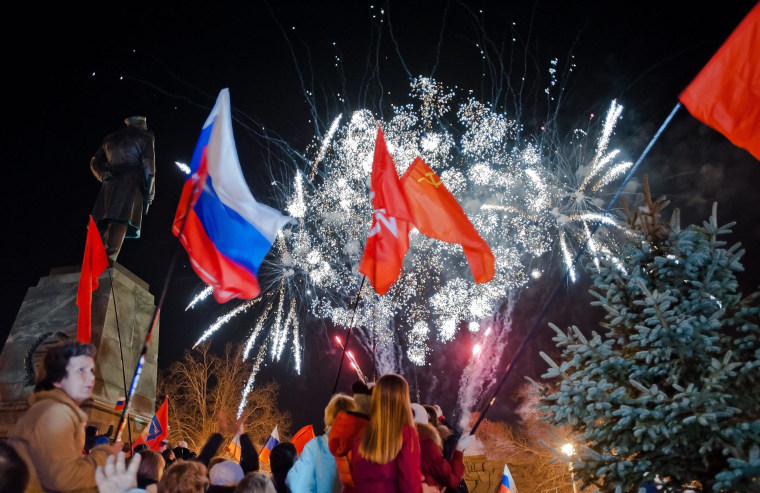 Kiev is strongly behind the sanctions and is hoping that the leadership -- and not the trench –- can prevent any Russian tanks from streaming across the border.
In Brussels on Friday, Ukrainian Prime Minister Arseniy Yatsenyuk signed an association agreement with the EU.
Four months earlier, Ukraine's then President Viktor Yanukovich rejected the deal, preferring to maintain close ties to Moscow. The rejection triggered protests that ultimately led to Yanukovich's downfall.