MOSCOW — Ukrainian national hero Nadiya Savchenko will learn her fate on Monday and could be sentenced to up to 25 years in a Russian prison.
But in her homeland, the Ukrainian military pilot is seen as a symbol of resistance to what most consider an invasion by Vladimir Putin's forces. Despite spending the last 20 months behind bars, many are even backing her to become president.
Moscow accuses the 34-year-old Iraq veteran of involvement in the killing of two Russian civilians during the bloody civil war in eastern Ukraine.
Here's a look at the controversy surrounding a woman whom some Ukrainians call their own "Joan of Arc."
Who is she?
Savchenko dreamed about a military career from childhood, according to her sister Vera.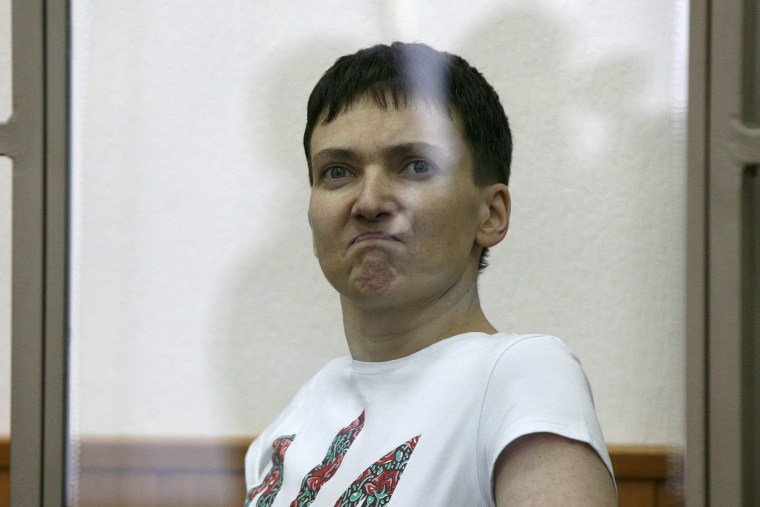 She enlisted in the early-2000s, first as a radio operator and then serving as a machine gunner in the 1,650-strong unit that Ukraine sent to Iraq in 2003. She was the only Ukrainian woman in the role at the time.
Her track record earned her a place at a pilot academy, though she was kicked out twice before graduating.
"She had exceptional grades, but could not tolerate the corruption at the academy," Vera Savchenko told NBC News. "One thing about her is, she could never stand injustice."
Nadiya Savchenko later served as a gunship pilot — becoming the first woman in Ukraine to get wings.
That alone made her a public hero in a country with a disappointing record on gender equality. Ukraine ranked 67th of 145 nations in the 2015 Global Gender Gap Report by the World Bank, next to Mexico, Bangladesh and Ghana. (The United States was 28th.)
When fighting involving Kremlin-backed militants broke out in Ukraine's eastern Donbass province in 2014, Savchenko joined a Ukrainian volunteer battalion. In June that year, she disappeared. She later resurfaced in Russian detention.
What did she allegedly do?
Moscow accuses Savchenko of coordinated a shelling that killed two journalists who worked for a Russian state-run media organization and who were embedded with the rebels in June 2014.
Russian President Vladimir Putin said law enforcement officials "have information that she had indeed coordinated fire," adding that the journalists' death was "murder" punishable by law.
The Investigative Committee — Russia's equivalent to the FBI — said Savchenko fled to Russia for unspecified reasons, where she was detained.
The committee did not return an official request for comment.
However, because Russia is not officially at war in Ukraine — and denies arming and directing the rebel groups or deploying its own military to help them — she is being tried under regular criminal law.
What's her side of the story?
Savchenko and her supporters say the case was fabricated.
"The charges are garbage not worth the paper they are printed on," Savchenko said in a Russian courtroom last year.
Her defense says Savchenko has a rock-solid alibi and claims she was helping wounded Ukrainians when she was captured and forcibly taken to Russia.
"The case is bogus and unfounded," Ukrainian consul in Moscow Gennady Breskalenko added.
"No one is even talking about this being a fair trial anymore," her lawyer Ilya Novikov told NBC News.
Savchenko's supporters and many activists say the case is really just Kremlin propaganda.
Human-rights groups such as Freedom House have long accused Russia of a smear campaign against Ukraine.
Savchenko's case was an attempt to give such claims a legal footing, according to Sergei Davidis of Russian rights group Memorial.
"They just needed a face to pin the blame on, and they caught Savchenko," Davidis told NBC News.
Memorial recognized her as a political prisoner in 2014.
How is she seen outside Russia?
The EU and the United States are considering a new round of anti-Russian sanctions over Savchenko, Ukrainian presidential spokesman Svyatoslav Tsegolko tweeted on Tuesday.
Earlier this month, Secretary of State John Kerry also made an unusually harsh statement calling for her immediate release."In the 20 months since she was captured in eastern Ukraine and taken to Russia, Ms. Savchenko has reportedly endured interrogations, solitary confinement, and forced 'psychiatric evaluation,'" he said. "Her trial and continuing imprisonment demonstrate disregard for international standards."
At home, Savchenko is a hero, her image boosted by her bravery in detention: she staged several hunger strikes, repeatedly blasted the Russian leadership and even flashed her middle finger to the judge when a hearing was postponed.
Rallies of support regularly draw thousands in Ukraine and a petition has been launched by supporters who want her to become president.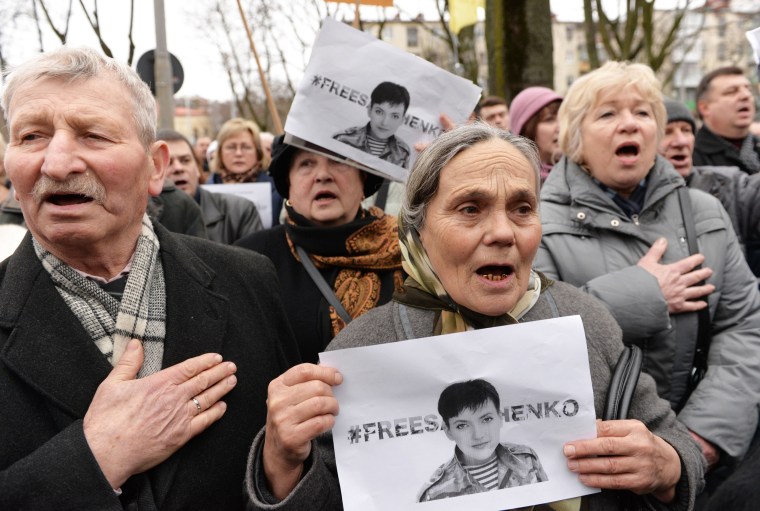 The Russian Embassy in Kiev was firebombed twice as her trial wound to a close.
Savchenko was also elected to the Ukrainian parliament in 2014 and made Ukraine's representative in the European Parliament — while in jail.
Russia still refused to release her, the Foreign Ministry in Moscow saying last year that her alleged crimes predate her parliamentary immunity.
What's next?
While few doubt that Savchenko will be convicted, even fewer expect her to be forced to stay in a Russian prison until the 2040s.
International pressure will likely prompt the Kremlin to exchange her for Russian prisoners of war after the verdict, lawyer Novikov said.
Ukrainian authorities are not ruling out any options, including a swap, diplomat Breskalenko said. Russian Foreign Ministry spokeswoman Maria Zakharova said on Russian television earlier this month the matter can only be raised after the verdict.
"Each day Savchenko spends in Russian detention harms Russia's global image," Davidis said. "They'll find a way to trade her away."