SIMFEROPOL, Ukraine – A Ukrainian member of parliament arrived in this Crimean city Friday evening only to be jeered and chased through the streets by angry pro-Russian demonstrators.
As the most high profile representative of the Maidan movement to come to the Crimea peninsula since the conflict began, Petro Poroshenko attempted to enter the Crimean parliament to start a dialogue with officials.
Almost immediately he was met with jeers, whistling and catcalls from the hundreds of pro-Russian demonstrators who have been regularly meeting outside the Parliament since masked gunmen took over the building earlier this week.
Blocked from entering parliament, police instead attempted to whisk Poroshenko away from the crowd. But the crowd surged and soon the independent MP was forced to hightail it out of the square into the streets of Simferopol, with the outraged protesters trailing behind him.
NBC News attempted to ask Poroshenko about his decision to travel to the Crimea, but he only muttered back, "Not now, not now."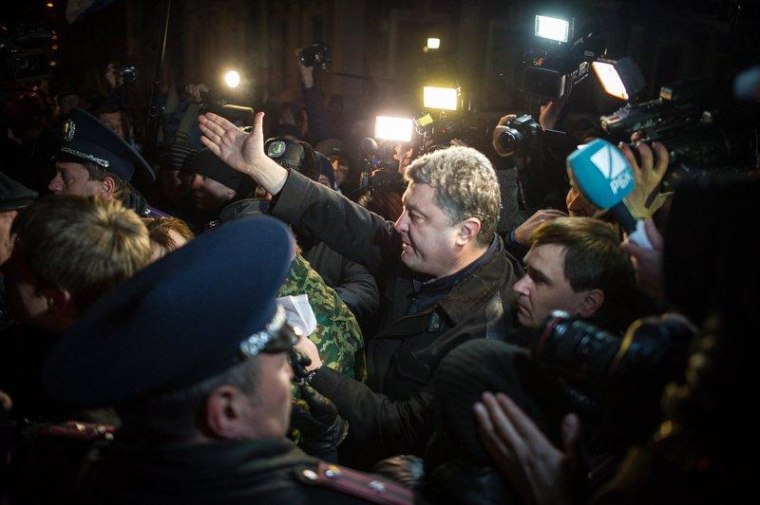 Chants of "Crimea! Crimea! Get out of Crimea!" and "Russia! Russia! Russia!" chased Poroshenko for eight city blocks before police managed to push him into a waiting taxi, which sped off through a hole in the crowd formed by police.
Besides being a current member of a parliamentary committee charged with researching European Union integration, Poroshenko has also been a mainstay in Kiev's Maidan movement, regularly seen supporting demonstrators there while also making speeches in favor of closer ties to the EU.
Poroshenko also owns Channel Five, one of the television stations here most closely associated with Maidan, as well as one of the largest companies in Ukraine, Roshen Chocolates, lending him the nickname, "The Chocolate King."