With the White House, European Union and NATO failing to stop the annexation of Crimea, Ukrainian campaigners are now trying a different approach to ending Moscow's aggression - urging women to abstain from sex with Russian men.
The activists are selling a T-shirt with the message "Don't give it to a Russian," alongside a pair of hands making the shape of a vagina.
The shirts also feature a line from Ukrainian poet Taras Shevchenko: "O dark-browed maidens fall in love, but not with the Moskals [a Ukrainian ethnic slur referring to Russians]."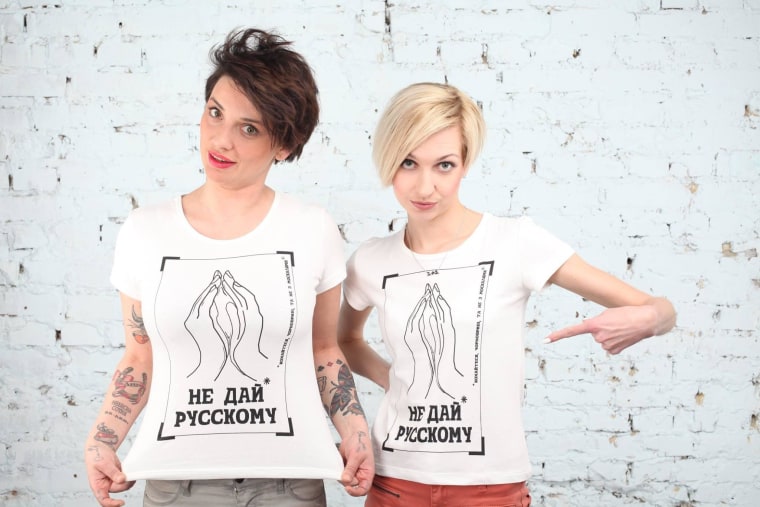 The proceeds are being donated to the Ukrainian army.
Irina Rubis, who co-founded the group, told NBC News in an email Wednesday that the campaign is anything but lighthearted.
"Sex is known for being one of the most effective elements of drawing substantial attention to campaigns," said Rubis, who works for Kiev-based communications firm Ekonomika. "[But] for us the slogan on the T-shirts is not about sex - this is a claim to protect our country from an aggressor."
The shirts go for 250 Ukrainian hryvnia (about $23) and the group has had about 200 orders from its Facebook page, which has more than 1,800 likes since it was set up seven days ago.
There have been other attempts to boycott Russian goods in the Ukraine since Moscow began its annexation of Crimea last month, but Rubis said they started the movement after realizing that many Ukrainian efforts to show "the brutality of Russian occupation" had failed.
"The chaos done by Russians in Crimea - kidnapping, limiting rights of the Tatars, preventing adequate journalists' work – these are the messages we want to draw attention to. It is certainly not to offend the Russians," she said.
The campaign sees itself as the latest in a long history of women withholding sex as a form of political protest.
Their Facebook page references the ancient Greek comedy "Lysistrata," in which women embargo sexual privileges from their husbands in an effort to end the Peloponnesian War.
However, the Russian nationalist website "Sputnik and Pogrom" described the women as "prostitutes," according to the Moscow Times.
And a doctored picture of middle-aged Russian liberal Valeriya Novodvorskaya wearing the T-shirt has been doing the rounds on Twitter.
In November, a group of women in a remote Colombian town launched a "crossed legs" sex strike over a crumbling highway.
And in August 2012, the female wing of a civil rights group urged women in Togo to stage a week-long sex strike to demand the resignation of the country's president.