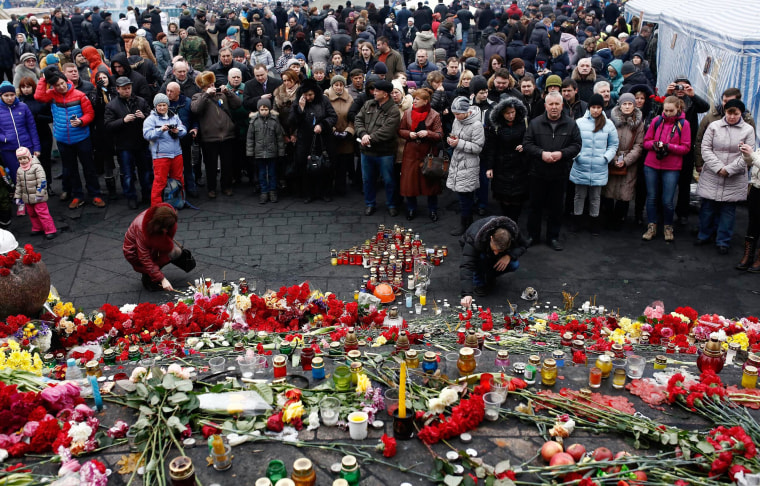 KIEV — Thousands of Ukrainians streamed into Kiev's Independence Square on Sunday, carrying flowers and candles in a spontaneous pilgrimage to commemorate the protesters who died for the ouster of President Viktor Yanukovich.
Marshalled through barricades by helmeted members of a self-styled 'self-defense' force, families poured down Institutska Street, the scene last week of the worst violence in Ukraine's 22 years of independence.
They transformed the street, where dozens of people were picked off by police sniper rifles and Kalashnikovs, into an improvised shrine, lighting candles and laying flowers against the cobblestones and bricks that protesters had stockpiled as weapons against the police.
Flowers were stuck to the metal shields of the self-defense members, a hardcore of protesters that grew into distinct, organized units and show no sign of disarming.
Yanukovich was ousted on Saturday, abandoning his Kiev office and country residence to flee for his native eastern Ukraine, stripped of his powers by a parliament packed with defectors from his Party of Regions.
It marked the climax of three months of protests on Independence Square, known as Maidan, over the president's sudden U-turn away from closer ties with Europe in favor of the former Soviet master, Moscow.
More than 80 people were killed in gun battles with police, quickly becoming martyrs to the cause.
— Reuters