Ukrainians may well hope the force is strong with this one -- and that he doesn't take them to the dark side.
Voters in Odessa and Ukraine's capital Kiev will be given the chance to vote for "Darth Nikolayevich Vader" in mayoral elections scheduled for May 25, according to a representative of the Sith Lord's party.
Darth Vader is standing for the Internet Party of Ukraine, whose goal is to fight bureaucracy in state institutions.
"The registration is finished -- the first step towards victory has been made. The power goes to my hands by itself and I am not ready to object," a statement on Darth Vader's website quoted him as saying.
The website carries the slogan: "Darth Vader –- a candidate with a human face!"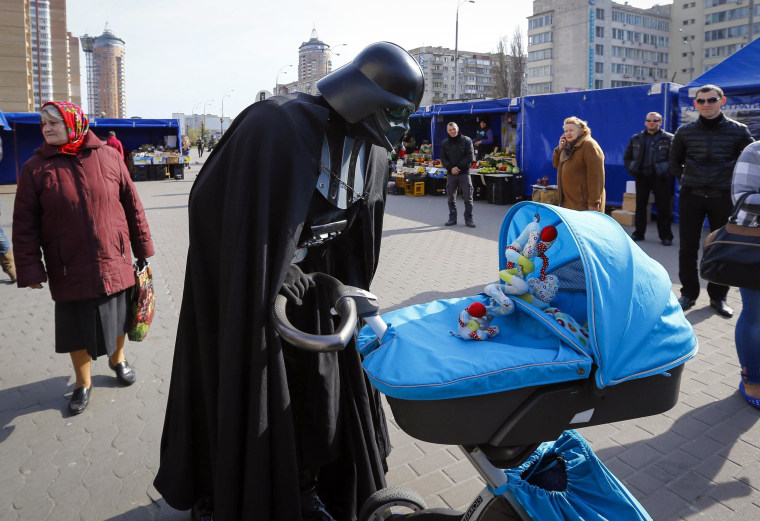 This is not Vader's first bid for ultimate power. Last month he tried to run for president, but the country's elections' commission refused to the allow him to register.
A spokesman for the Internet Party, which was founded by Odessa-born Dmitry Golubov, maintained that their candidate's name was indeed Darth Vader.
When asked what name Vader had before changing it, the spokesman Alexey Shevchenko responded: "It's a secret."
The May 25 elections follow the ouster of pro-Moscow President Viktor Yanukovych and the subsequent turmoil which has seen the region of Crimea annexed by Russia and separatists gain control of several buildings and cities in the east.
- Maria Stromova and F. Brinley Bruton