Troops loyal to Moscow fired warning shots at unarmed Ukrainian soldiers protesting in the strategic Ukrainian peninsula of Crimea on Tuesday.
The pro-Russian troops, who had taken control of the Belbek air base, fired into the air as around 300 Ukrainian soldiers, who previously manned the airfield, demanded their jobs back.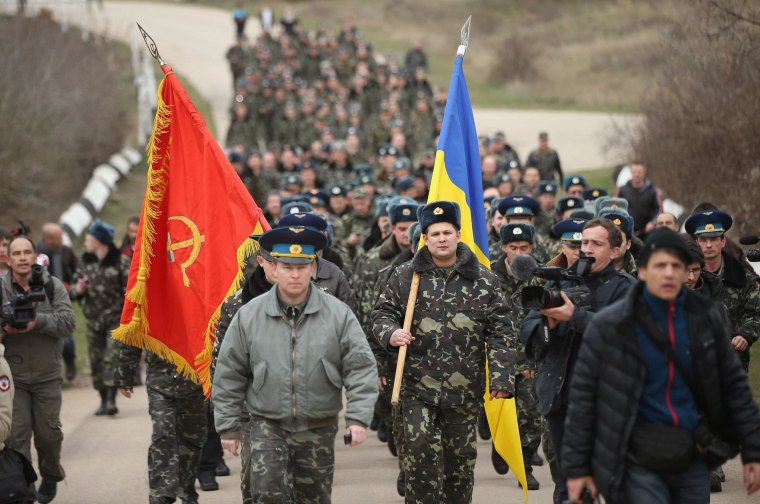 About a dozen Russian soldiers at the base warned the Ukrainians not to approach. They fired several warning shots into the air and said they would shoot the Ukrainians if they continued to march toward them.
The shots were apparently the first fired since pro-Russian troops — estimated by Ukrainian authorities to be 16,000 strong — tightened their grip on the Crimea Peninsula over the weekend.
There was no fighting elsewhere in Crimea early on Tuesday. A supposed Russian ultimatum for two Ukrainian warships to surrender or be seized passed without action from either side, as the two ships remained anchored in the Crimean port of Sevastopol. Russian Defense Ministry spokesman Vladimir Anikin said late Monday that no ultimatum had been issued.
Early on Tuesday, the Kremlin said Russian President Vladimir Putin ordered troops participating in military exercises in western Russia near the Ukraine border to return to their permanent bases. The order was issued almost a week after Russia began massive exercises involving most military units in western Russia, stoking fears that the Kremlin might use the troops to seize territory in pro-Russian areas of eastern Ukraine.
- The Associated Press