DONETSK, Ukraine — Violence erupted and residents in the eastern city of Slovyansk were warned to stay indoors Sunday as Ukraine's interior minister announced forces were attempting to regain control of official buildings from pro-Russian militant separatists.
Military helicopters were seen over the besieged buildings, but it was not clear if any clashes had taken place on the ground.
Pro-Russian groups on the ground have been preparing heavily-armed barricades in the city, and any attempt by Ukrainian forces to regain control is likely to be met with violence.
"Pass it on to all civilians: they should leave the center of town, not come out of their apartments, and not go near the windows," Interfax Ukraine news agency quoted Arsen Avakov as saying.
One Ukrainian state security officer was killed and five wounded on the government side in what Avakov called Sunday's "anti-terrorist" operation.
"There were dead and wounded on both sides," Avakov said on his Facebook page, adding that about 1,000 people were supporting the separatists.
Meanwhile, the Russian news agency RIA reported that one pro-Moscow activist was killed in Slovyansk in clashes with forces loyal to the Kiev government.
"On our side, another two were injured," RIA quoted pro-Russian militant Nikolai Solntsev as adding.
The unrest in Slovyansk and the nearby major industrial city Donetsk were the latest shows of spiraling anger in eastern Ukraine, which has a large Russian-speaking population and was also the support base for Viktor Yanukovych, the Ukrainian president ousted in February following months of protests in Kiev, the capital.
Ethnic Russians in Ukraine's east widely fear that the new pro-Western Ukrainian government will suppress them.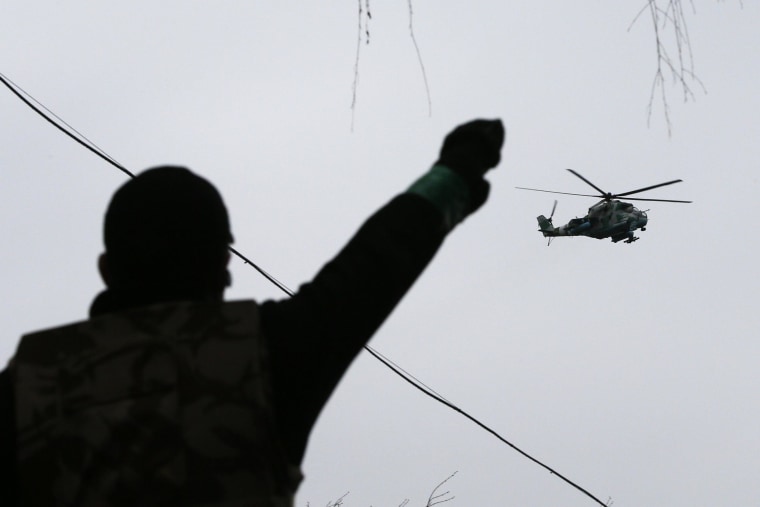 In a phone call with Russian Foreign Minister Sergey Lavrov, Secretary of State John Kerry "expressed strong concern" that the attacks "were orchestrated and synchronized, similar to previous attacks in eastern Ukraine and Crimea," according the State Department.
Kerry "made clear that if Russia didn't take steps to de-escalate in eastern Ukraine and move its troops back from Ukraine's border, there would be additional consequences," the department said.
Avakov wrote on his Facebook page that the men who seized the buildings in Slovyansk had opened fire on the approaching troops and described the unrest as "Russian aggression."
Alastair Jamieson reported from London. NBC News' Andrea Mitchell, Reuters and The Associated Press contributed to this report.