As pro-Russian forces consolidate their control of Ukraine's Crimea, occupying and surrounding military bases and a key ferry terminal, a war of words has broken out over Moscow's denials that its military was involved.
American officials have brushed off Russia's remarks almost incredulously, yet the Kremlin has stuck to its line that no active-duty Russian personnel were part of the apparent takeover of Crimea over the weekend.
"No, absolutely no (Russian troops)," Vladimir Putin's Defense Minister Sergei Shoigu declared on Wednesday when asked whether his forces were involved.
When questioned about the Tiger and Rys armored personnel carriers seen throughout the strategic peninsula – vehicles used only by the militaries of the United Arab Emirates and Russia – Shoigu said he had "no idea" where they were coming from. Agence France-Presse reported that Shoigu also dismissed photographs military vehicles with Russian license plates in Crimea as a "provocation" and "nonsense."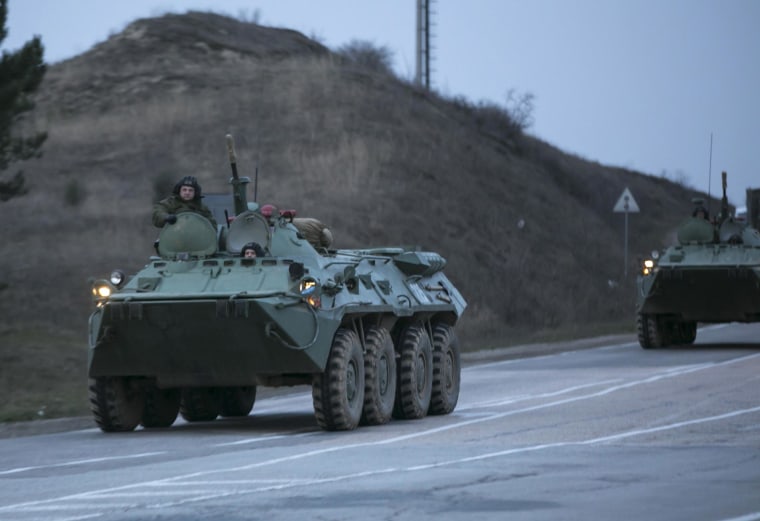 Most of Crimea's 2 million inhabitants speak Russian, and many describe themselves as Russian - even if they hold Ukrainian passports. Crimea is also home to a Russian naval base on the Black Sea.
In the West, Russia's denials that their troops were effectively in control of Crimea have prompted disbelief.
Secretary of State John Kerry smiled and shook his head when NBC News' Andrea Mitchell repeated Russian President Vladimir Putin's claims that none of his troops were involved.
"He really denied there were troops in Crimea?" he asked during a press conference on Tuesday.
Kerry's Russian counterpart Sergei Lavrov has stuck to a similar line to Shoigu in the wake of protests which overthrew pro-Moscow President Viktor Yanukovych last month.
"As for the military personnel of the Black Sea fleet, they're in their deployment sites," Lavrov said in response to a journalist's question during a trip to Spain on Wednesday.
Under a deal due to expire in 2042, Russia had the right to billet up to 25,000 military personnel in the Crimea. But the agreement does not allow for Russian troops to effectively take control of the region.
So who has surrounded government buildings, bases and Ukrainian forces? Militias made up of pro-Russian civilians, Moscow contends.
"If you mean the self-defense units created by the inhabitants of Crimea, we give them no orders, they take no orders from us," Lavrov said on Wednesday.
"It makes sense in the universe where Vladimir Putin lives ... His media says there are no Russian troops (and) he tries to export his media model to the outer world."
While the Russian soldiers were in plain view on the streets of Simferopol and other cities after the incursion in Crimea, they are now being kept inside and out of site, several members of self-defense units in the region told NBC News. They have left the work of patrolling the streets to these local citizen guards over the past two days.
Late Wednesday, Crimea's new leader repeated claims that Russian troops were not actually in charge of the peninsula. He insisted it was under the control of riot police and security forces joined by about 11,000 "self-defense" troops.
Joint Chiefs Chairman Gen. Martin Dempsey said that Shoigu told him that the armed men taking control in Crimea were "were well-trained militia forces responding to threats to ethnic Russians in the Crimea."
Dempsey added that his "military judgment is that these are soldiers who have been taken out of their traditional uniforms and re-purposed for placement in the Crimea as a militia force."
Indeed, the Pentagon says it was aware that Russian forces began flowing into Crimea late last week. On Friday, Ukraine's interior minister accused Moscow of a "military invasion and occupation" after troops allegedly blockaded an airport near a Russian naval base and armed men seized another airport.
Journalists and residents have seen men in military uniforms, minus Russian military badges, traveling the countryside and beyond bases and in military vehicles using Russian license plates.
Some have admitted that they're Russian military, not members of the self-defense militias.
In one video posted on YouTube, a uniformed man is asked: "Are you Ukrainian [citizens] or Russian?"
"Russian military servicemen," he responds.
While insisting that no Russian forces were involved in the occupation, Putin has also said that many of his troops knew their Ukrainian counterparts personally, and he was "certain" that Ukrainian and Russian forces would be "on the same side of the barricade."
So what's behind the East-West dissonance?
"It makes sense in the universe where Vladimir Putin lives," said Dr. Igor Sutyagin, an expert in U.S.-Russian relations and nuclear arms control with London-based defense and security think tank RUSI. "His media says there are no Russian troops (and) he tries to export his media model to the outer world."
Putin likely believes that Russia's takeover in Crimea will work because the West won't act decisively against him, despite the evidence that Russia has invaded another country in the "heart of Europe," Sutyagin said.
"Putin is winning over Ukraine – what will force him to leave Crimea? Effectively nothing," he said.
Courtney Kube and Ed Flanagan of NBC News contributed to this report.